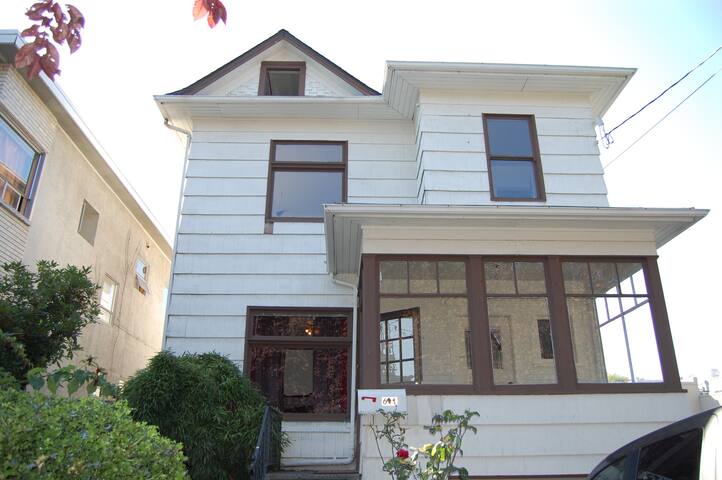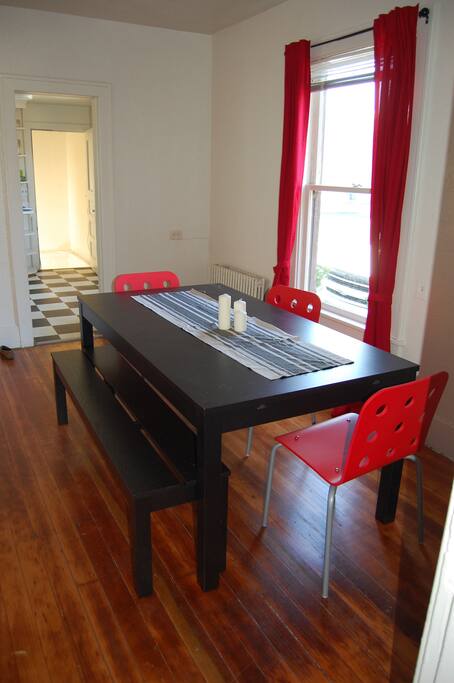 スペース
About Io House:
This is a home for itinerant techies - entrepreneurs, coders, inventors, designers, and scientists. The idea is to interact with the other residents, and for you to leave with your strongest memories being of the people you met here.
This house is located in the heart of North Capitol Hill, at its closest point to South Lake Union. You've got the convenience of the restaurants and activity of Capitol Hill, and a full QFC supermarket two blocks away, while located an easy walk from TechStars (1.2 miles walk), CodeFellows, Amazon SLU, etc. It has a WalkScore of 95/100.
Bed: this listing is for a queen bed in a private room.
Common area includes: a living room on the main floor, a large converted attic designed as work space, a full kitchen, shared bathrooms, and a large basement suitable for bike/luggage storage.
We provide:
- High-speed Internet
- Laundry on-site (detergent provided)
- Full kitchen with dishwasher
- A back yard with picnic bench
- Periodically professional housekeeping
- Bedding and towels
From the airport you can take light rail and either walk 1.4 miles or take one bus line.
There is a house captain on-site, so you'll be well taken care of. That being said, we expect you to keep your area and the kitchen clean, to wash your own clothes/towels, and to be considerate of the other residents.
This house is a little older and shows some wear, but we endeavor to keep it well-furnished (mostly IKEA), and reasonably clean and tidy.
Note about parking: there are three parking spaces (one garage space, one driveway space, and one street space blocking the driveway). The garage and driveway spaces cost $8/day. The street space is free but subject to neighborhood 2 hour daytime parking limit. Parking is very tight in this neighborhood. If you would like to use one of the two paid parking spaces, please ask when you make your reservation.
As seen in GeekWire.
---
---
We reserve the right to check out any guests, at any time, who behave in a disorderly manner or intentionally disturb other guests with their mess, or their noise.
We encourage guests to respect the following rules:
- Always be respectful to everyone.
-No smoking is permitted within the house premises, Neither in the garden, backyard or garage.
-No outsiders/visitors are allowed to enter the house premises without House Captain approval.
-Quiet Hours: 10:00 pm until 7:00 am
-No pungent food (i.e stinky fish) to be brought into the house.
-Do not microwave bacon.
-Consumption of food is not allowed inside bedrooms.
-Kindly wash your dishes (cups, plates, utensils) and clean counter tops immediately after use.
- Public spaces (living room, dining room, hallway) should be neat enough to expect visitors at any time.
- Bikes must be signed out by the user.
- Label your own food with name & date. Unlabeled food is fair game for anyone to eat.
-Leftovers older than 3 days will be discarded.
-Animals/pets are not allowed in the house.
-Once a guest checks out, the guest may leave their luggage for a maximum of 6 hrs with us for storage but we will not be responsible for any losses or damage.
-Check-in is after 3:00 PM
- Check-out is at 11:00 AM
- The dishwasher can be started when 3/4 full.
---
Grokhome is all about building fun and creative tech communities. We have three different tech-oriented group living houses in Seattle, IO House and Eniac House on Capitol Hill, Cor 36 in the South Lake Union area, and Romero near the University of Washington. At Grokhome's…
言語:
English