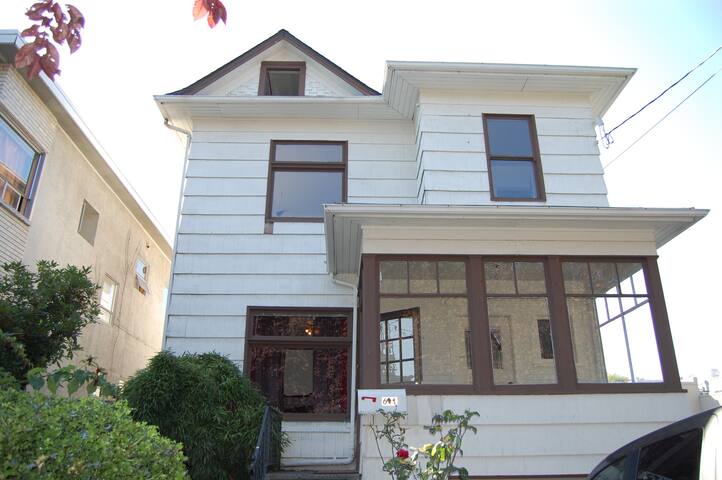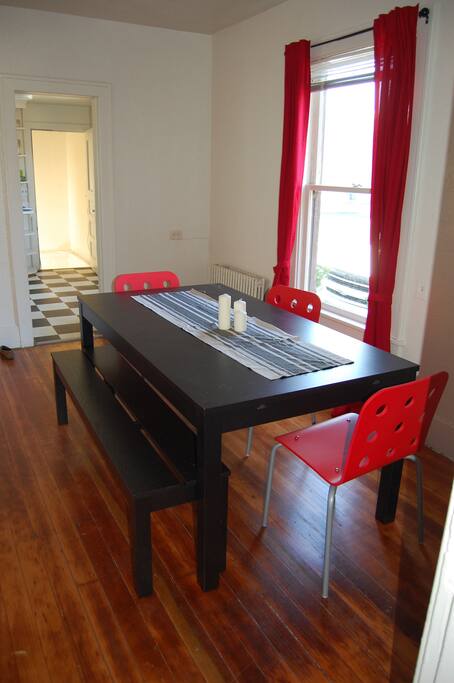 リスティングについて
スペース
About Io House:
This is a home for itinerant techies - entrepreneurs, coders, inventors, designers, and scientists. The idea is to interact with the other residents, and for you to leave with your strongest memories being of the people you met here.
This house is located in the heart of North Capitol Hill, at its closest point to South Lake Union. You've got the convenience of the restaurants and activity of Capitol Hill, and a full QFC supermarket two blocks away, while located an easy walk from TechStars (1.2 miles walk), CodeFellows, Amazon SLU, etc. It has a WalkScore of 95/100.
Bed: this listing is for a queen bed in a private room.
Common area includes: a living room on the main floor, a large converted attic designed as work space, a full kitchen, shared bathrooms, and a large basement suitable for bike/luggage storage.
We provide:
- High-speed Internet
- Laundry on-site (detergent provided)
- Full kitchen with dishwasher
- A back yard with picnic bench
- Periodically professional housekeeping
- Bedding and towels
From the airport you can take light rail and either walk 1.4 miles or take one bus line.
There is a house captain on-site, so you'll be well taken care of. That being said, we expect you to keep your area and the kitchen clean, to wash your own clothes/towels, and to be considerate of the other residents.
This house is a little older and shows some wear, but we endeavor to keep it well-furnished (mostly IKEA), and reasonably clean and tidy.
Note about parking: there are three parking spaces (one garage space, one driveway space, and one street space blocking the driveway). The garage and driveway spaces cost $8/day. The street space is free but subject to neighborhood 2 hour daytime parking limit. Parking is very tight in this neighborhood. If you would like to use one of the two paid parking spaces, please ask when you make your reservation.
As seen in GeekWire.
---
---
---
追加人数の料金: $20 / 泊 (1名を超えると1名様増毎に加算)
連絡は常にAirbnbを通して行いましょう
お支払をお守りするためにも、Airbnbのサイトやアプリ以外の場所では決して送金や連絡を行わないようご注意ください。
詳細はこちら
---
Clean up after yourself, and do not leave dirty dishes in the sink.
Public spaces (living room, dining room, hallway) should be neat enough to expect visitors at any time.
Bikes must be signed out by user.
Dishwasher can be started when 3/4 full.
Label your own food with name & date.
Unlabeled food is fair game for anyone to eat.
Leftovers older than 3 days will be discarded.

---
厳格
開始7日前までに解約すれば50%返金されます(サービス料も返金可)。
---
i staied for 4 daya and the stay was nice everthunh is orgenized and run by rules which is great to have such an order in a sharing place... loved it and recomend it as well. just goanna highlight somw of my experience with the place. I have arrived to the IO house at midnight which probably no one was awake at that time, but luckily I have received a full detailed message from Yuly's account who is taking care of the place. I followed the instructions and it was perfectly done right. at the room I found the bed sheets and plows sheets as well, which I had to adjust it my self. the room light unfortunately was not working so the lamp light was the only source of light at the room. the bathroom was clean and organized and equipped with the needed stuff, however the bathtub shower was damaged and not working. I really liked how the check up on the guests background happen which is considering the harmony for everyone. I met two people and one lady at the second day were she was working with Yuly and she was so nice and helpful as well. the two guests who I met one if them he is a long stayed and the other was new. both were also kind and helpful in terms for me to know the house rules. the living room is tide and clean and it's the most shared area in the house plus the desks before the kitchen. labeling the items for individuals was also a good way for the residents to know which items for sharing and which are not. there were bikes to borrow but I did not have the chance to do so. overall it was a pleasure and nice stay and I recommend you to give it a try.
---
This house is suitably called a "hacker house" because in order to get decent wifi, you'll have to hack someone else. The provided wifi is not fast enough to support the amount of people living here, so high lag and trouble loading pages/movies/pictures is common. And you'll run into this problem more often than not, as there is no TV, so everyone will be trying to use the internet for shows and gaming. Perfect for exhibitionists! Thanks to not having a curtain in the bathroom, you will have multiple opportunities to flash people visiting the bank next door. However, If you are not an exhibitionist, they still have you covered! The front door's lock never works, so you have an excuse to sneak shamefully out of the back door instead. Hate cooking? Great! >6 people share a single fridge, so you'll never have room to store fresh vegetables or meat. But thankfully, due to the location of the property, you'll be able to find new places to eat out every night. In all seriousness, other than the gripes above, this was a decent place to stay when i need accommodations for a few days. The bed was comfortable, the room was clean, and it is in a great location. Would not recommend for extended stays.
---
The general atmosphere at Andrew's house is youthful and welcoming, which is pleasant for any traveler. Perhaps, more important, the location is outstanding as the Link Light Rail is a few blocks south and access to Capitol Hill's vibrant community surrounds the house. Other neighborhoods, such as SLU, are also fairly easy to access. Additionally, I wasn't satisfied with the condition of my room upon arrival, but I was pleased that Andrew was willing to consider and to accept a resolution.
---
From the reviews I was expecting something horrible, but the place was super nice for me. The description of the house is accurate. The neighborhood is great for night life, bars and restaurants 1 block away. I felt home here... I spent 1 month and I liked it. The place is relatively clean, it's an old house. I felt a little insecure at the beginning but there is no reason to feel that way. There are no keys in the doors (if you are crazy about that). Internet is fine, but sometimes stopped working well. The shower is a bit weak. The washing/drying machines are a bit old and rusty, but they work fine. The house captain was very nice and there were always people living in the different rooms, but everybody very respectful in my opinion
---
The Io House has a great location, in the heart of trendy capitol hill great food/drinks and volunteer park. The other people living in the house were very friendly and nice. While I was there professional cleaning services came and did a thorough and much needed job of cleaning the kitchen, bathrooms and living area. The room I was in, which was the larger private one on the second floor, was completely bare bones and quite frankly depressing in appearance, a bed, a rickety tiny desk and a folding chair. Overall, I would say my experience was positive.
---
The host was nice. He understood why we could not stay at his place. It is just not an enviroent suitable for females.
We have had many happy female guests in the past, and certainly intend for Io House to be an even better place for female guests in the future. Currently it doesn't have enough scale to have a female-only room (as we do at our Cor36 location in Wallingford), but we are growing, and hope to have such an option soon. Also, you provided private feedback about cleanliness, and we will do a better job of meeting consistently high standards, including coaching our guests to be more mindful of the needs of others sharing the space. Thanks for taking the time to provide your feedback.
---
Grokhome is all about building fun and creative tech communities.

We have three different tech-oriented group living houses in Seattle, IO House on Capitol Hill, Cor 36 in the South Lake Union area, and Romero near the University of Washington.

At Grokhome's group living houses you can expect to be surrounded by smart people solving big problems. Every guest brings something new to our community. Ideas flow and people are exposed to new possibilities they never stumbled on before.