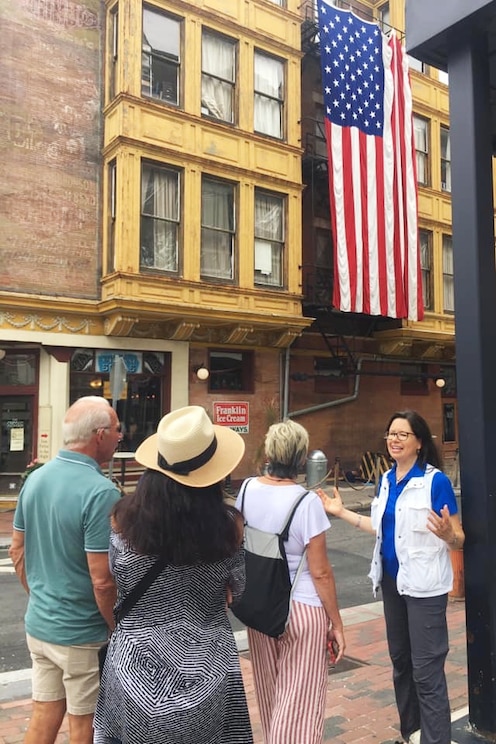 Savor Philly sweets, sights and stories
Savor Philly sweets, sights and stories
You'll step out of the everyday and into the past the moment we enter the oldest little residential side street in America. There you will discover layers of history and quirky stories in a setting that will have you dreaming of moving out of your home and into this real-life 18th century version of Tiny House…

A sample of a historic ice cream flavor - a unique Pennsylvania flavor treat!
"Travel is intensified living," says Rick Steves. I wholeheartedly agree! Seeing visitors' eyes light up at the sight of all that is amazing about my favorite cities is a real joy to witness and an experience I love creating for my guests. I'm a Licensed Washington, DC and NYC Sightseeing Guide who is TripSchool Certified here in Philadelphia. I love sharing the history, stories, quirks, beauty and larger-than-life aspects of the city where I was born and raised (NYC) and the cities I love (Philadelphia and DC). I've traveled all over the world as a writer for travel companies but Philadelphia is one of the cities my heart calls home. Ready to explore, discover & taste the sweet side of Philly? Let's go! (See what travelers have to say about my other Experiences: read reviews of my Live a Day in the Life of NYC, Walk the Ben Franklin.)
We will be walking within what is considered the nation's most historic mile and district, stopping for an up close look in unique places (lobbies, restaurants, lesser known landmarks) that many visitors miss as they hurry past on the way to see the major historic landmarks and attractions.
今後の予約可能状況
ご希望の日時に空きが見つからない場合は、Mariaさんにすることもできます。
This location is easy to reach - its just a few blocks from the Philadelphia Visitors Center. If you are traveling by public transportation please take Patco SpeedLine or SEPTA to 8th and Market Street.
歴史ウォーク
Savor Philly sweets, sights and stories
新着の体験