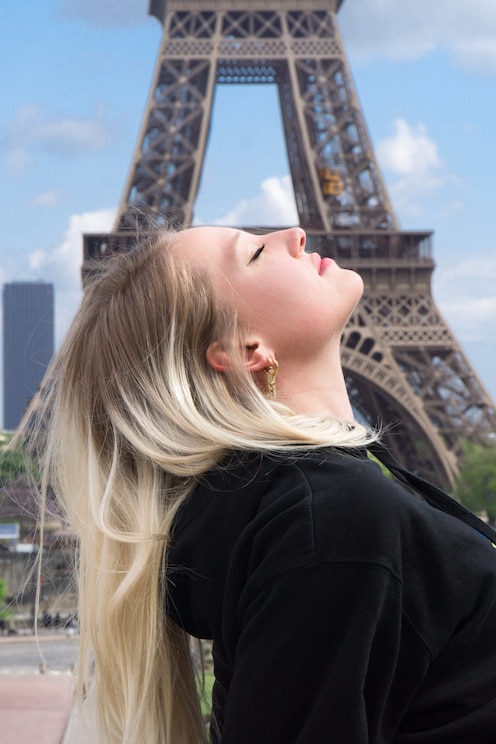 Photoshoot tour at the Eiffel Tower
Photoshoot tour at the Eiffel Tower
Let's have a great time making some amazing and uniques pictures of you at the Eiffel Tower! First we will meet at the Trocadero place, where we will introduce each other and start our photoshoot. After taking beautiful photos of you in this so famous place, we will go closer from the tower by a beautiful and…

Camera Sony Alpha 5100, full edit of each photo one by one, colorful Big umbrella if rain :-)
My name is Julie! I am an awarded french director and photographer. I have directed shortfilms that were broadcasted on several international tv channels (like HBO, OCS, TV5world, etc.), selected and awarded in plenty festivals all over the world (Palm Springs, Saint Kilda, Lanzarote, Trouville, etc.). As a photographer, I've had the luck to be exposed in the Wolfsonian museum of Miami, in the Concorto Gallery in Milan, in New York and Paris ! I love to meet people and to share photographic experiences with them. As a director, I exactly know how to make everybody feel comfortable in front of the camera... And of course to have fun! Feel free to learn more on my website : http://www.julievoisin.net/en/accueil.html Instagram account : https://www.instagram.com/julneighbour/ Facebook page : https://www.facebook.com/julneighbour
This experience have for subject « You and the Lady » ! We will start in front of the best view over the Eiffel Tower, then going through charming romantic gardens, to get closer and closer from her. We will finish in a graphic and beautiful bridge, with a very special point of vue over the Tower.
今後の予約可能状況
ご希望の日時に空きが見つからない場合は、Julieさんにすることもできます。
参加にはご本人確認(自撮り+身分証の顔写真との照合)が必要です。確認は1回で済みます。
Dress exactly how you want for this photoshoot! The goal is to make amazing pics, to see beautiful places and to have fun! Don't hesitate to write me if you have any question.
写真撮影
Photoshoot tour at the Eiffel Tower