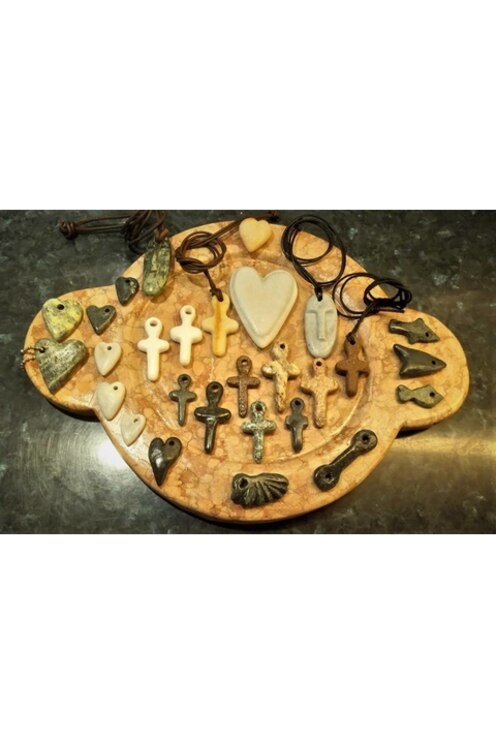 Heart jewel sculpting on a marble pebble
Heart jewel sculpting on a marble pebble
What can be easily experienced by the guests is to try (with our guidance) to create a jewel from scratch, for example a small pebble heart. The process requires the following steps : 1) Drawing the heart shape on the pebble by pencil 2) Basic cut of the heart shape on the pebble using electric cutter 3)…

Tools, electric cutters, grinders are provided by the host for free.
The most significant Greek sculptors originated from the island of Tinos (my motherland) and since my twenties I started to exercise plaster, marble and wood sculpting. I started by constructing reliefs, marble lintels, human faces, horses, etc In the last decade I have developed the technique of constructing jewels from marble pebbles of Tinos. Crosses, hearts, cycladic figurines, fishes, rings, earings are the most popular artifacts, (see my Facebook page). What can be easily experienced by the guests is to try (with our guidance) to create a jewel, for example a small pebble heart. The process requires the following: 1) Drawing on the pebble 2) Basic cut 3) Smoothing 4) Polishing with sandpaper 5) Hole drilling 6) Waterproofing 7) Leather cord fastening. All safety rules are met. Tools and protective items are provided on site
There is no need for transportation. The experience will take place on site. There is no extra cost for the experience. All tools and protection items will be provided to the guests by the host.
今後の予約可能状況
ご希望の日時に空きが見つからない場合は、Markさんにすることもできます。
Nothing has to be done for preparation by the guests. However and for deeper information regarding Greek Modern Sculpture see : https://en.wikipedia.org/wiki/Yannoulis_Chalepas
工芸教室
Heart jewel sculpting on a marble pebble
新着の体験