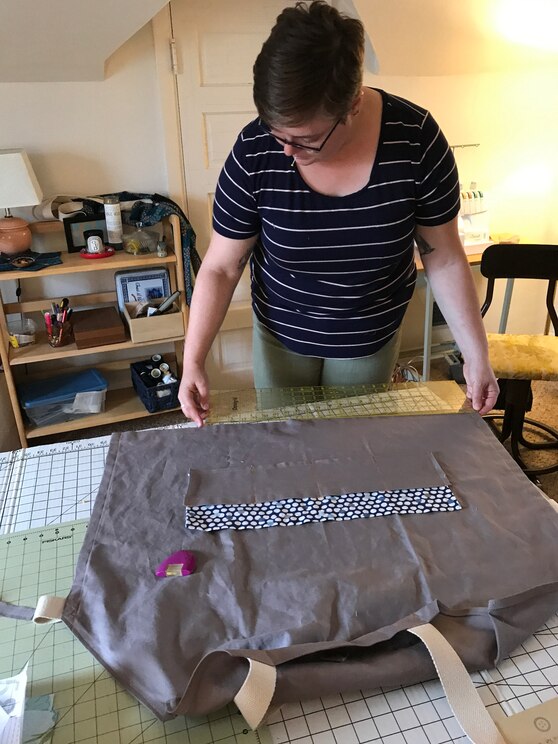 Private sewing lesson: make a tote!
Private sewing lesson: make a tote!
I'll welcome you into my sewing studio and while we have a cup of coffee or tea we'll select fabrics for your reusable shopping or tote bag or apron. I will walk you through the process from cutting the pattern to finishing stitches. No need to have any sewing experience, but even if you have sewn before, this is…

Coffee, tea, water, and yummy homemade baked goods (please specify any dietary restrictions and I am happy to accommodate).

Sewing machines, scissors, work space, iron and ironing board, tailor's chalk, pins, needles, thread, notions, fabric.
I am the maker behind Always Pockets, a space for learning to sew. I have been sewing garments for nearly ten years, having learned to sew while living abroad. I have extensive experience with tailoring and altering garments, and have turned my passion for sewing into an opportunity to help others learn the joy of making a two-dimensional design into a usable three-dimensional object. I have led small-group and individual sewing sessions both in my space and at sewing retreats. In my studio, we will work together to choose fabrics and design elements that are customized for you!
My sewing studio is in the uppermost floor of my cozy North Portland home. The space is warm and accommodating, and well-appointed for small groups (3-4) or individual lessons. There is a central cutting table, several machines, an ironing station, and all matter of fabrics and notions. I have everything you need to make your one-of-a-kind project come together!
参加にはご本人確認(自撮り+身分証の顔写真との照合)が必要です。確認は1回で済みます。
The sewing studio is up one flight of steep stairs and unfortunately there is not wheelchair accessibility.
アトリエ訪問
Private sewing lesson: make a tote!
新着の体験