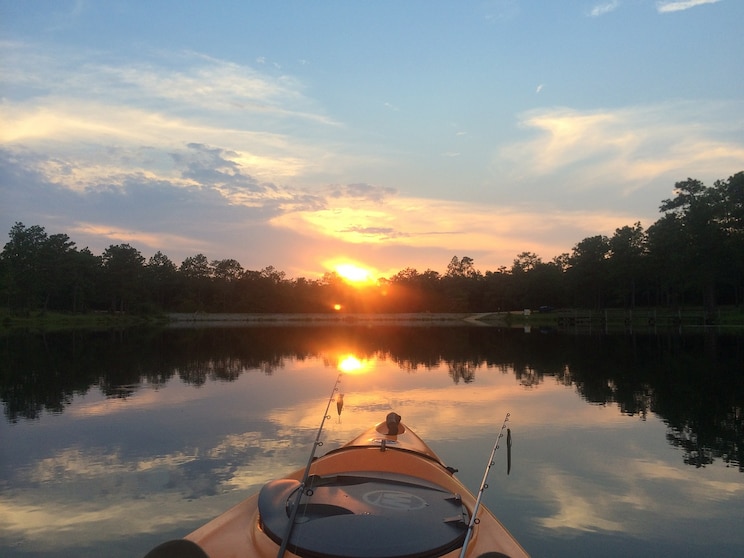 Kayak Bass Fishing in Berkshire County
Kayak Bass Fishing in Berkshire County
We will rendezvous at one of the many ponds or lakes located in the Berkshires. The exact rendezvous spot will depend on the target species of your trip. After introductions you will be fitted with your Personal Flotation device while we go over safe kayaking. Next comes some brief instruction on kayaks and…

will provide: kayak, oar, PFD, Fishing Rod, Terminal Tackle, Bait
I am a life long Fisherman who especially likes to coach the novice into their first fish. My experience on the water includes many familiar names – Alaska, Puget Sound, Great Lakes, Key West, Etc… For the past 10 years I have been exploring the Lakes and Rivers of the Berkshires focusing on waters that are off limits to power boats.
Our trip starts at Benedict Pond in Beartown State Forest. This pond has something for all skill levels and is the ideal water for the novice. Accomplished Anglers have the added challenge of the Benedict Pond Slam. The Benedict Pond Slam is achieved by landing a Large Mouth Bass, a Yellow Perch, a Black Crappie and a Pickerel all during the same outing. More info about B-Town can be found here: http://berkshirehiking.com/hikes/beartown.html
今後の予約可能状況
ご希望の日時に空きが見つからない場合は、Jさんにすることもできます。
*** MUST HAVE A VALID MASSACHUSETTS FISHING LICENSE *** Purchase Freshwater Fishing license online: https://www.mass.gov/how-to/buy-your-freshwater-fishing-license This experience is a three hour long guided fresh water kayak fishing trip in South Berkshire County.
カヤック
Kayak Bass Fishing in Berkshire County
新着の体験