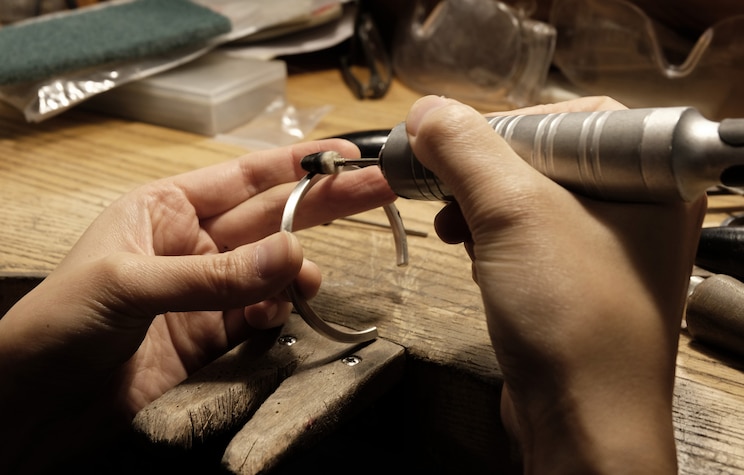 Silver Bangle Jewellery Making Workshop
Silver Bangle Jewellery Making Workshop
In the elegant yet practical decor of Obellery's studio (where the workshop will take place), guests will find themselves feeling comfortably relaxed knowing they are about to experience the life of being a jeweller. Our tutor will teach as individuals or in a small group of no more than 4 people to provide…

- Sterling Silver (925) for the bangle - Vast array of handtools (specifically for jewellery making purposes) - Hand-held…
Myself, Belinda Chang is a British trained jewellery-smith. I've been designing and crafting my own work for 10 years counting. Apart from managing my own brand, Belinda Chang Jewellery, I'm also a co founder of Obellery, a contemporary jewellery studio. My own design works allows me to express myself, but what I want most is to share my skills and experience with everyone who have yet to learn about such immense joy. Such is the goal of this studio / contemporary jewellery gallery; to share the enjoyable journey of jewellery making to the greater public by offering the opportunity to experience the crafting process for themselves. There is nothing like witnessing a piece of metal come to life in your own hands, the sense of fulfilment, and the fact that it can be worn everyday is a constant reminder of our own proud achievements.
Within the welcoming PMQ complex, you will find Obellery situated on the 4th floor of Hollywood Block. In the elegant yet practical decor of Obellery's studio, guests will find themselves situated among numerous silversmithing tools and equipments, most of which will be exciting and unfamiliar, waiting for students to discover their unique purposes. We have 4 traditional jeweller's bench, capable of holding group workshops of up to 4 people.
今後の予約可能状況
ご希望の日時に空きが見つからない場合は、Belindaさんにすることもできます。
For health and safety issues, participants with long hair will be asked to tie up their hair, and close-toed shoes should be worn during the making process.
工芸教室
Silver Bangle Jewellery Making Workshop
新着の体験