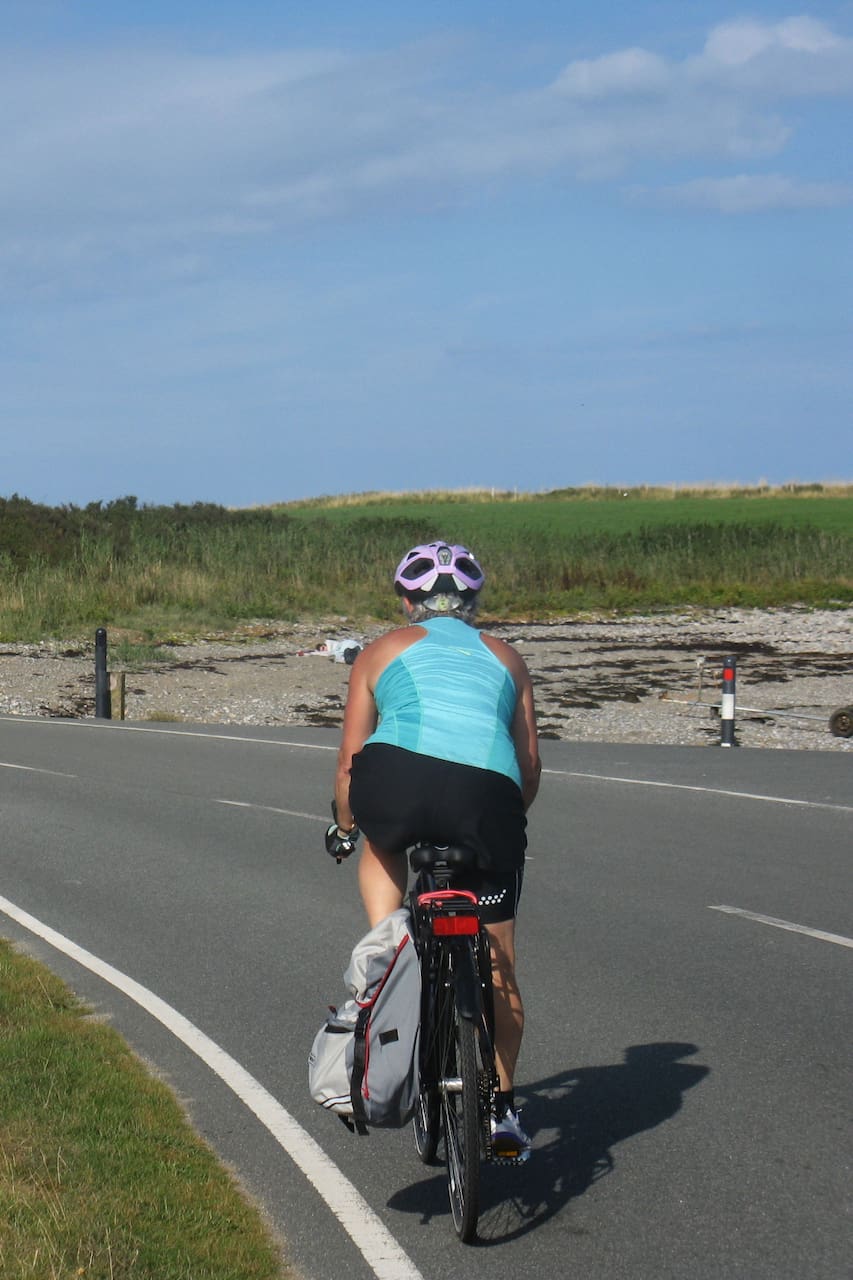 Guided Bike Tour of Beaumaris-Penmon
Guided Bike Tour of Beaumaris-Penmon
I've founded a company to combine a unique mix of guided cycling, nature observing and sharing local Welsh history and culture to create an enjoyable leisurely cycle ride. Participants will get a sense of achievement from completing a cycle ride while enjoying the surrounding environment and visiting places of interest. All my routes are chosen to be achievable, they all include aspects of…
We meet outside David Hughes Community Centre, in pretty Beaumaris to collect your hired bikes/ check our bikes and receive a briefing about riding etiquette on the route. We begin our journey of 11.5 miles, with a few short hills, by skirting around the back of Beaumaris for an unusual view of Edward I's fortress, and pass Llanfaes Church, once one of the richest parishes in Wales, before riding…
Each guest must complete a health form in advance, to comply with my insurance, which is through British Cycling. The health & bike booking form is available here: https://www.greenlanebiketours.co.uk/contact and should be returned by email to contact@greenlanebiketours.co.uk
自転車
The basic fee is with your own bicycle, helmet and spare tyre kit just in case. You can hire a bike through me. I work with Cyclewales http://cyclewales.net/bikes-for-hire/ Bike Hire is an additional £15 paid via Airbnb resolutions as advised by Airbnb, you also need to complete my booking form
スポーツ用具
E-bike hire is an additional £30- this needs to be booked separately via our booking form and an additional payment through Airbnb resolutions as advised by Airbnb.
If you are bringing your own bike, please ensure that it has been recently maintained, with working brakes and fully inflated tyres. Bring your spare inner tube and puncture repair kit, if you have one. As with any outdoor activity, cycling has risks. W
You may find it useful to bring a ruck-sack to carry any spare clothing that you may want to bring with you in case it rains- or take off if you get too hot and a drink to quench your thirst during the cycle.
On this ride, we skirt around the back of Beaumaris for an unusual view of Edward I's fortress, before passing through Llanfaes towards Penmon's ruined Priory and lighthouse. We'll stop at the Pilot House Cafe before returning. We go a short way onfoot to visit another castle 'folly' atop older earthworks on our return. This is a fairly short ride at 11.5 miles- with a few small hills and plenty of opportunities to stop and see things!.
参加にはご本人確認(自撮り+身分証の顔写真との照合)が必要です。確認は1回で済みます。
Each guest must complete a health form in advance, to comply with my insurance, which is through British Cycling. The health & bike booking form is available here: https://www.greenlanebiketours.co.uk/contact and should be returned by email to contact@greenlanebiketours.co.uk
サイクリング
Guided Bike Tour of Beaumaris-Penmon
新着の体験