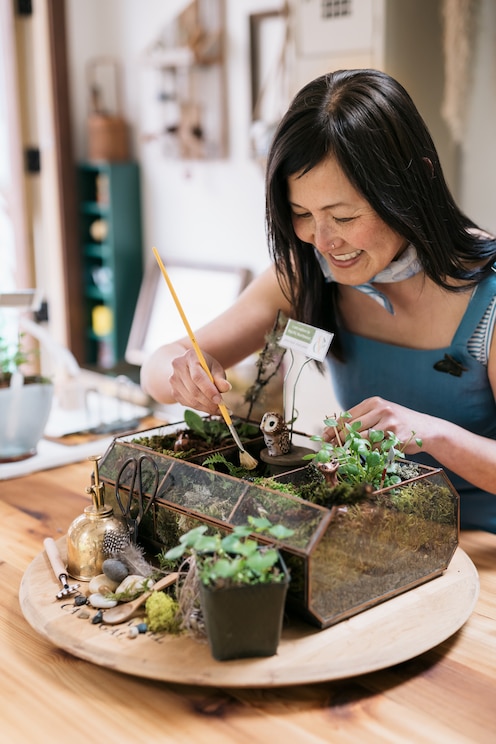 Mini-habitat workshop in a secret garden
Mini-habitat workshop in a secret garden
Discover a Secret Garden. I'll let you in on a little secret: native plants are the cornerstone to a healthy ecosystem because 90% of leaf eating insects, including caterpillars that turn into butterflies, can only eat the plants that are native to their region. Most plants in urban garden are from China,…

Water with lemon/lime and a sprig of edible native leaves or fruit.
My name is Weina Dinata. I am passionate about advocating native plants as the base food web for our ecosystem. My business is Poppy & Finch, born out of my graphic design background & passion of the beauty & purpose of native plants. I create one-of-a-kind living habitat centerpieces in repurposed containers for special occasion/event, design educational paper goods & gardener's bandannas, & host informative hands-on workshops (centerpieces, moss balls, wall-mount, block-printing, etc.). I am exposing the beauty & purpose of native plants through my design & art so that they will be more relevant/engaging to the uneducated people who are not aware their importance to our environment. My workshop is personalized, insightful & inspiring including a habitat garden tour that was transformed from lawn with exotic/invasive plants into a haven.
I transformed my garden from lawn and exotic/invasive plants into an educational haven of beneficial insects and birds for the neighbors/community to learn about the importance of native plants! It is gold certified for backyard habitat. My garden and home studio, is full of eclectic collections over the years of repurposed vintage centerpieces, garden decor and designed home goods that give the garden and studio charms, joy and inspirations.
今後の予約可能状況
ご希望の日時に空きが見つからない場合は、Weinaさんにすることもできます。
参加にはご本人確認(自撮り+身分証の顔写真との照合)が必要です。確認は1回で済みます。
Unfortunately, bathroom is not available for use so please plan accordingly.
ワークショップ
Mini-habitat workshop in a secret garden
新着の体験