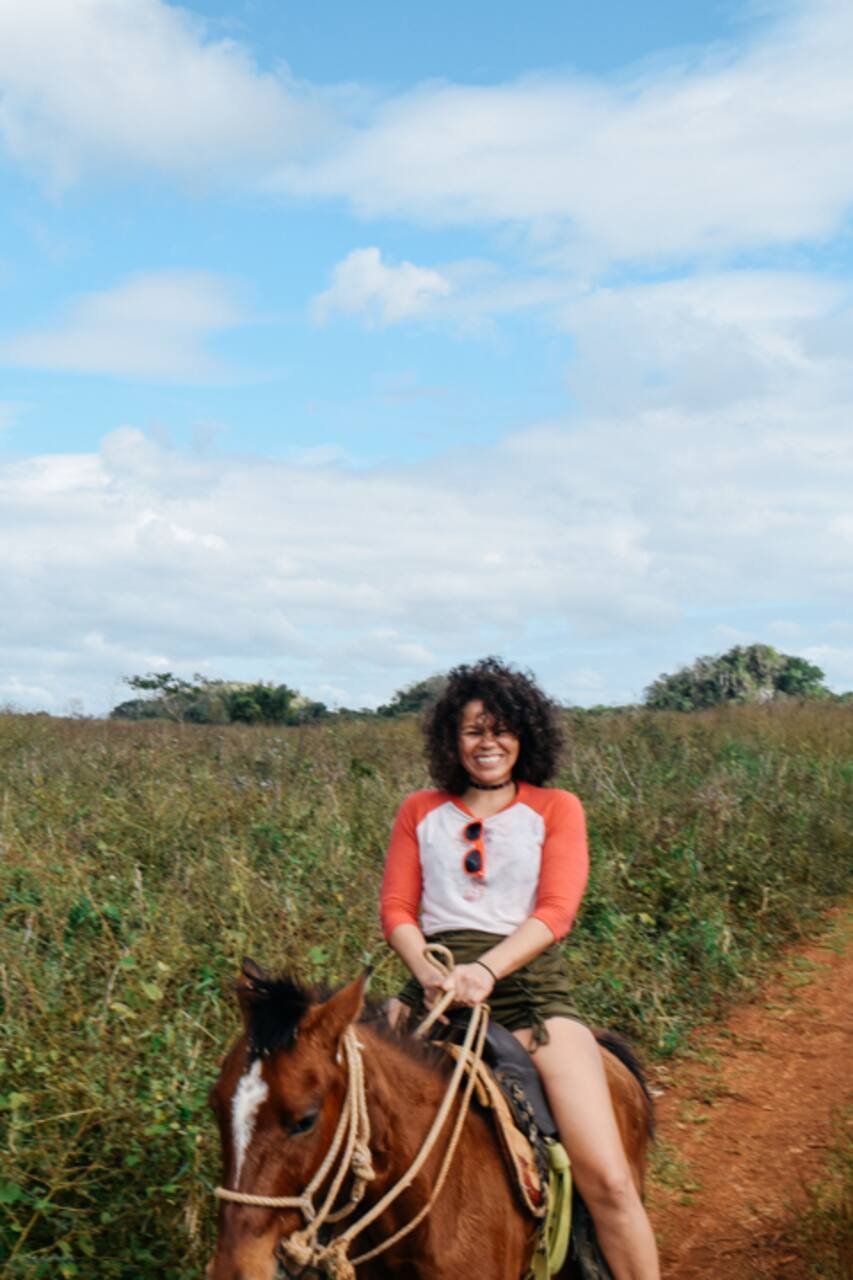 Live Viñales - Historical/Nature Tour
Live Viñales - Historical/Nature Tour
Includes:
食べ物、ドリンク、チケット1枚、移動送迎
Hola! Me llamo Andy y soy de La Habana. Hi, I'm Andy & I'm from Havana! My passions are Cuba & travel! I majored in Tourism at the University of Havana & I'm a cuentapropista looking to empower cuban entrepreneurs through tourism! I created AYC WORLDWIDE in 20; we specialize in personalized trips for all types of travelers! . Check us out on IG: aycworldwide We would love to host your next…
Experience the beautiful countryside of Cuba in the Valles de Viñales! You'll love these rich, colorful, historic tours while you're here! Our well trained and educated guides provide an easy trip that is all inclusive - including all activities, round-trip transportation in a CLASSIC CAR with AC, and lunch! No SURPRISE prices, haggling for food or services or pulling out your wallet to pay for…
Bring money to buy bottles of local Rum, cigars, coffee, cuban honey , alcoholic beverages (<5 CUCs per drink), breakfast at rest stop (5 CUCs). Check us out on IG: aycworldwidetours
昼食
Lunch is on us! Enjoy a farm to table paladar with fresh, organic Cuban food. There are vegetarian and vegan options! Alcoholic beverages are extra.
カクテル
Have a drink on us! One piña colada made with local Cuban rum or a virgin piña colada at El Mural De La Prehistoria. Local Rum and Cigar tasting at the Farm !!
入場料
Horsebacking riding, Tobacco Farm, Mountain Mural and the Caves are all included!
車
Round trip transportation! We pick you up and drop you off at your hotel/casa particular in Havana!
Comfortable shoes for walking, horseback riding.
Extra money for souvenirs, cigars, rum.
A bottle of water can be handy!
An umbrella or a raincoat! They come very useful during the summer which is raining season in Cuba.
We will be visiting several historic and natural caves and farms in the Valley de Viñales. Take in the views of this beautiful town while learning Cuban history, enjoying local cuisine, and having a drink and cigar with the locals! Bring comfortable shoes and a curious mind! This experience counts towards your 'support for Cuban people' visa and can be applied to your itinerary!
今後の予約可能状況
ご希望の日時に空きが見つからない場合は、Andyさんにすることもできます。
酒類を伴う体験です。酒類は法定飲酒年齢以上の成人ゲストにのみ提供されます。
Bring money to buy bottles of local Rum, cigars, coffee, cuban honey , alcoholic beverages (<5 CUCs per drink), breakfast at rest stop (5 CUCs). Check us out on IG: aycworldwidetours
日帰り旅行
Live Viñales - Historical/Nature Tour