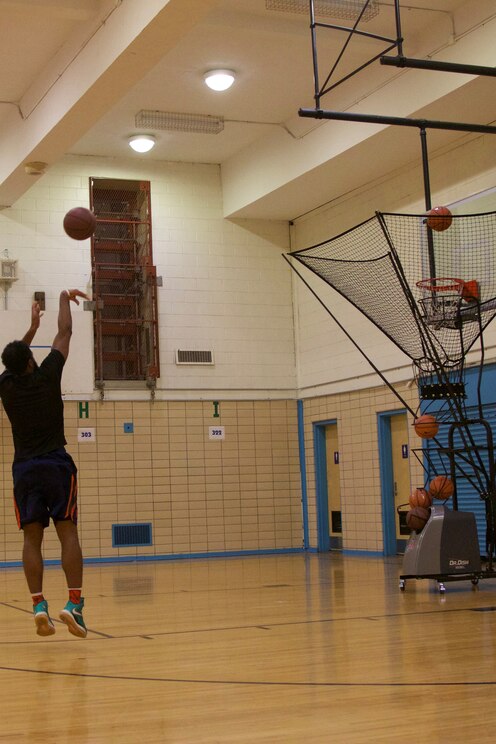 Welcome to the mecca of basketball NEW YORK CITY! Looking for a private gym with a trainer and shooting machine? Look no farther! Meet me at my gym in Manhattan, NY where you will get an entire basketball court to yourself to play with your friends or work on your jump shot with the Dr. Dish Shooting Machine.

Dr. Dish Shooting Machine and Basketballs
I am the founder of health & wellness nonprofit Active Plus Inc. and a former college basketball player. I have lived in the New York City community for 20+ years and I started my nonprofit to provide youth and children coming from vulnerable communities health and physical education. Basketball has been my passion from a child and I make it a point to play in every city I visit around the world. Not only will I host you at my court, I will recommend all the great places to play around NYC.
The lack of physical activity in schools & an increase in daily caloric expenditures is partially to blame for the rising prevalence of overweight youth. Active Plus aims to create an inclusive environment that is centered around physical and mental wellbeing activities for children of all skill levels. The mission is to change lives by providing children access to health and fitness education.
こちらは社会貢献体験です。参加費は全額、「Active Plus Inc. 」に寄付されます。
We will meet at my favorite boxing gym Lionheart Health a few blocks away from Central Park and Columbia University. We will then stop by a local bodega to get some beverages before heading to the private indoor basketball court.
The basketball court will be reserved for only the guest who book through AirBNB. If you want to know if anyone is booked feel free to reach out and ask!