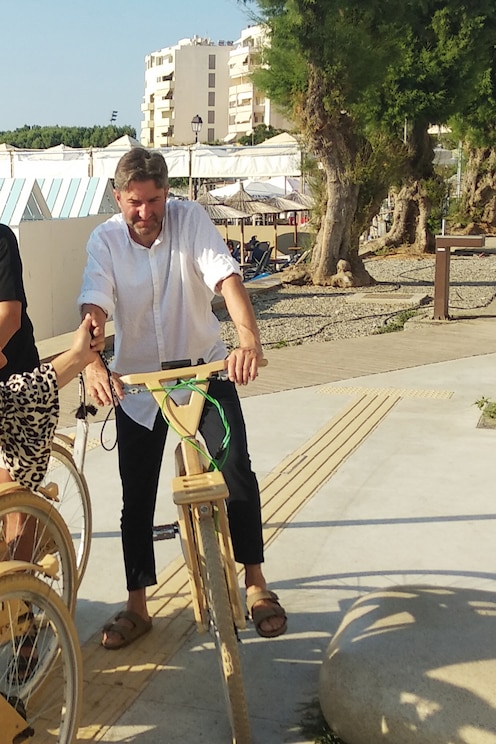 Chania Neighborhoods and Coastal Beauty
Chania Neighborhoods and Coastal Beauty
Chania Neighborhoods and Coastal Beauty We start cycling from the heart of Venetian Harbor of Chania, 30 Sourmelis str. , Giali Tzamisi Square. We cross Venetian Harbor of Chania, we pass by sights and we see where locals prefer to hang out. We get to see Chania through the eyes of the Chanians. This is a…

handmade electric wooden bike, helmet.
My name is Panos and one of the visioners of electric wooden bikes tours in Chania. I hold a Master Degree from the Technical University of Crete. I was born in Chania, studied and raised in Athens. Cycling wooden bike has become part of my life, that makes me the most suitable person for organizing eco-friendly bike tours. The relaxing tours I offer are unique! As local, I have so many "secret" places to share with you. I am proud of our eco-friendly tours with electric wooden bikes in Chania.
Meeting Point: Giali Tzamisi Square of Venetian Harbor of Chania. Places: Venetian Harbor of Chania, Venetian Walls, Kydonia Minoan City, cathedral, Firkas Fort, Maritime Museum, Byzantine Museum, San Nicolas Greek Orthodox Church, Chania Old Town Neighborhoods, Chania Old Town narrow alleys, Nea Chora (New Land) beach, Keritis River, Chrisi Akti beach, Agioi Apostoloi beaches & Park.
今後の予約可能状況
ご希望の日時に空きが見つからない場合は、Panagiotisさんにすることもできます。
To be noticed: We use pedestrian streets, cycle paths and traffic roads. We may need to get off the bikes for a few seconds and we always have to be careful.
サイクリング
Chania Neighborhoods and Coastal Beauty
新着の体験