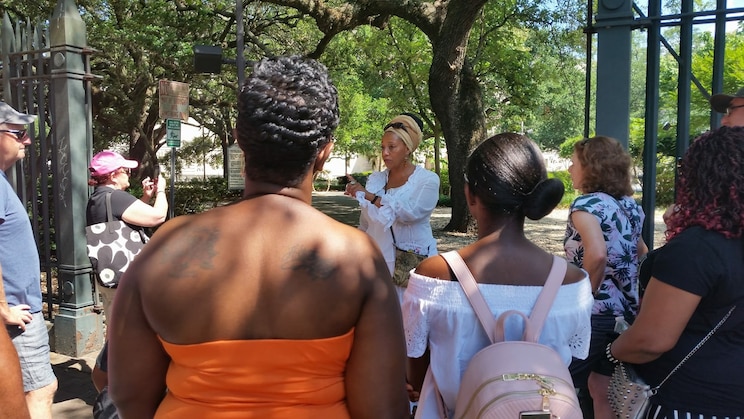 "Singing is praying" w. Jazz Vocalist
"Singing is praying" w. Jazz Vocalist
"Singing is twice praying" This tour begins in Treme' the oldest African American neighborhood in the US. St. Augustine Church the first Black Catholic in the country, is a historic landmark of New Orleans. We meet on the side of the church by the "Tomb of the unknown slaves grave" on Governor Nicolls Street. …

One Cookie or a piece of delicious Turkish handmade sweets.

Ice tea or hot tea depending on the weather.
Hi my name is Mikhala "Jazz Muffin" Iversen I'm a Jazz vocalist and storyteller. I'm also the co- founder of the #1 Black Heritage & jazz tour in New Orleans. I love New Orleans: the good the bad and the ugly, I think all three stories are important to get the full picture of the memorizing Crescent City. Music is deep in my blood generations of Jazz bread in my bones, and Jazz got me here, 10 years ago I came to sing, and was invited back I fell in love with New Orleans. Looking for the stories about the African slave-trade in Louisiana and the musical connection between Senegal and New Orleans, it was not that easy. Therefor I've created what I couldn't find, 5 star reviews only.
Treme' is oldest Black neighborhood in the US with beautiful colorful hand carved Creole cottages, there are secret messages hiding in the rod iron work. St. Augustine Church first African American catholic Church, build during slavery 1841. Haitian/ African influence is everywhere.Armstrong Park sculpture Garden, music legends of New Orleans surrounded by Magnolia trees and water fountains. Congo Square birthplace of Jazz. Fatimas Cozy Corner
今後の予約可能状況
ご希望の日時に空きが見つからない場合は、Mikhalaさんにすることもできます。
参加にはご本人確認(自撮り+身分証の顔写真との照合)が必要です。確認は1回で済みます。
Please wear comfortable shoes, come hydrated if it's hot, bring umbrellas if it's raining. Bathrooms will be available at the end of the tour, so kindly "use it" prior to the tour.
歴史ウォーク
"Singing is praying" w. Jazz Vocalist