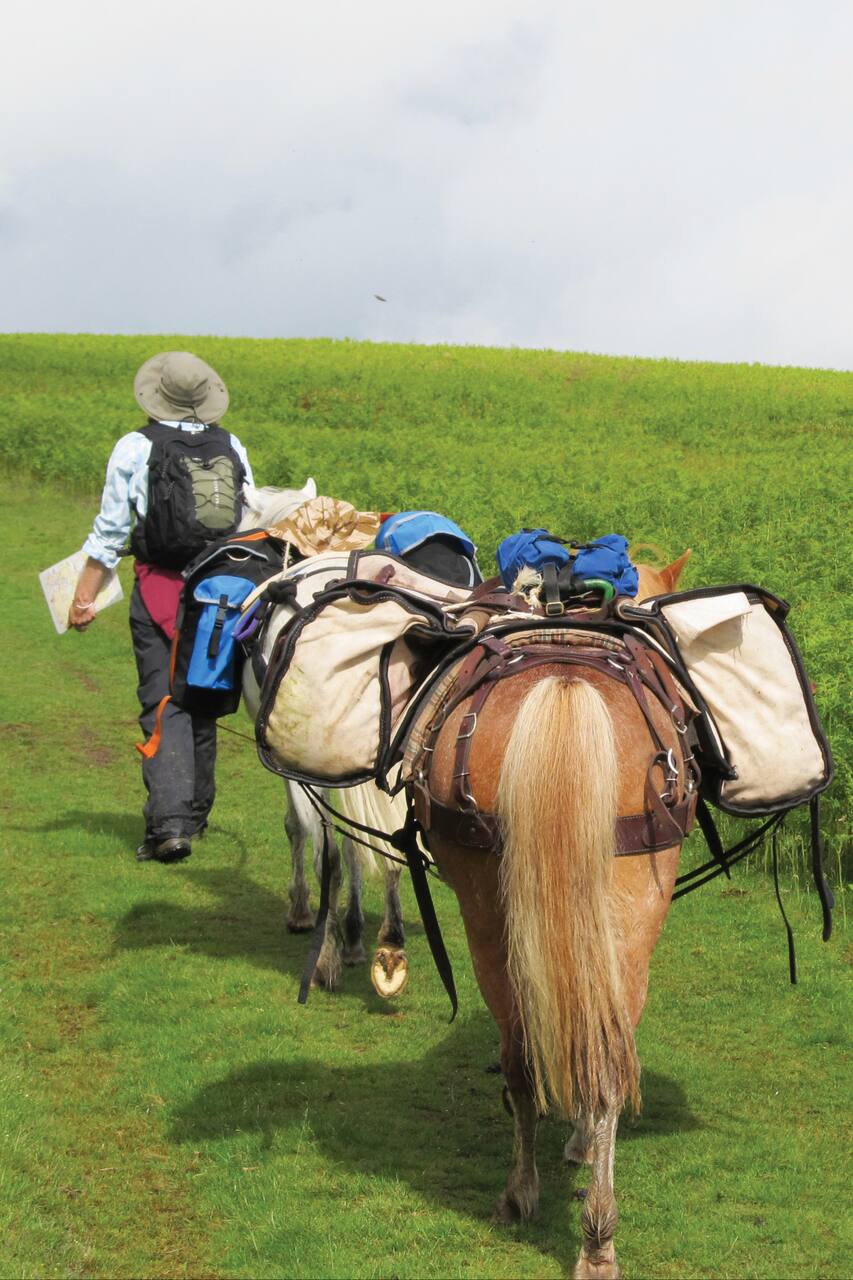 Guided Hikes with Pack Ponies
Guided Hikes with Pack Ponies
Hi I'm Lyndy Having lived here in Hay for some 40 years and co founder of Hooftrek.co.uk with Will Williams who has been a horseman for 40 years running guided rides through Wales and we both have a wealth of experience with horses and ponies over 30 years. Will and I have devoted the last three years to training and establishing a small (14) herd of Welsh Mountain Ponies as Pack Ponies so…
9.30am - 5.30pm Meet in Hay on Wye and taken approx 20 minutes away up to our yard in the mountains. As well as the fully trained pack ponies we have a number of very friendly foals who love to be right in the middle of operations who are a delight. In groups of two you will meet the ponies and choose your pack pony (usually one between two people). Morning is spent learning about the ponies,…
Very happy to answer any queries by telephone or email. Guests will be sent a full information pack upon booking.
食べ物
Packed lunch can be provided upon request or you can bring your own. Plentiful tea and coffee with homemade cake provided.
用具
Specially designed pack frames and panniers to fit our fully trained pack ponies
Full suggested list of what to wear and what to bring will be sent upon booking.
The yard where the ponies live is rustic and beautiful, with stunning views over the Radnor Hills. Homemade cake and a relaxed atmosphere. Experience both mountain and moorland terrain although the walk is not arduous nor steep climbs, see lakes and wildlife where not many people get the chance to visit, fieldfares swoop through the long grass and its a haven for red kites. - You may want to bring binoculars with you too.
ガイド付きハイキング
Guided Hikes with Pack Ponies
新着の体験