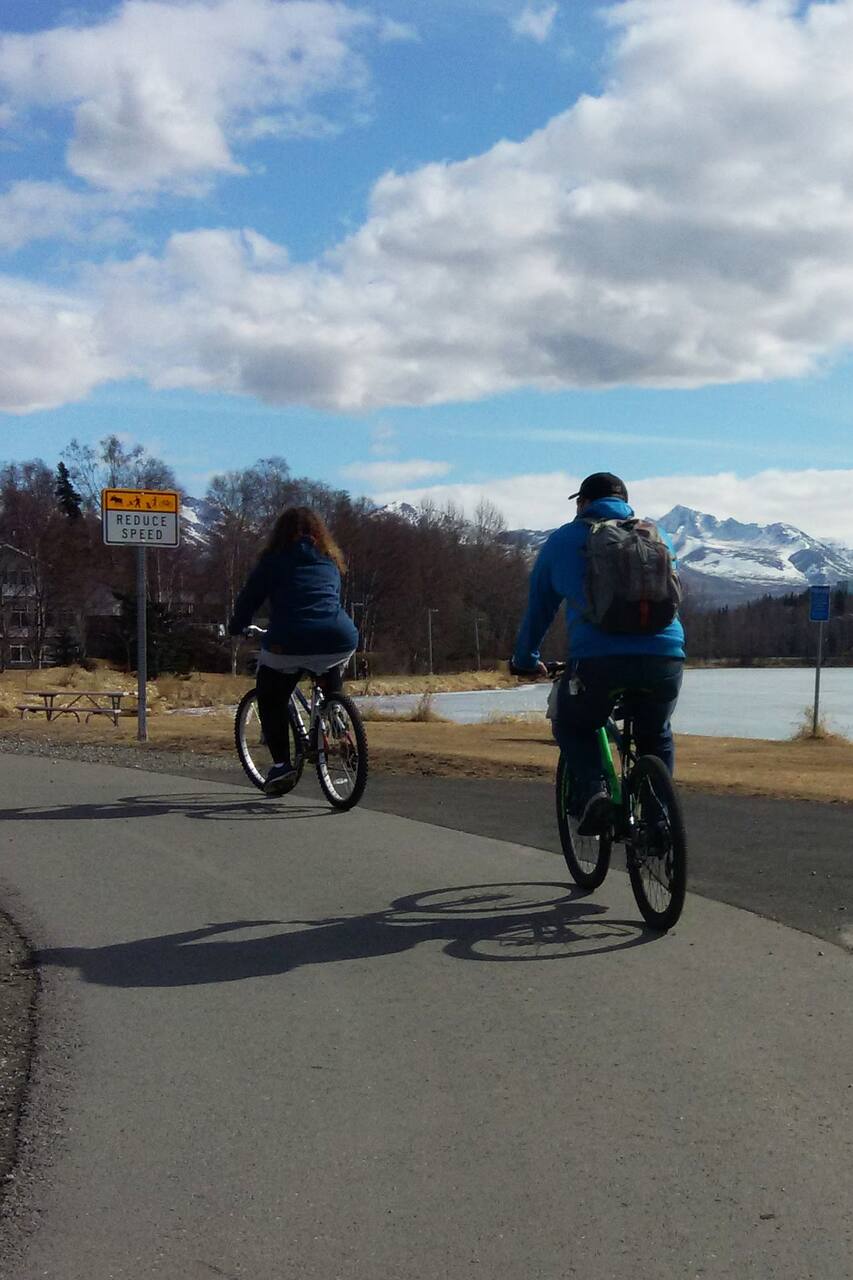 Happiness Biking Anchorage Adventure
Happiness Biking Anchorage Adventure
There is something so fun and adventurous about setting out on your own two wheels. Biking is my favorite way to travel around Anchorage, and I've discovered my favorite adventure routes through town. It's wonderful how much awe-inspiring Alaskan nature there is right here in the city. I've always loved riding a bike, from triathlons to multi-day bike trips through Alaska's mountains. But…
We'll meet up outside of a downtown Anchorage landmark, Snow City Cafe. Enjoyed by everyone from neighboring office workers to visiting U.S. Presidents. Next door is Pablo's Bicycle Rental, where you can rent your wheels for the adventure (we encourage you to reserve in advance, but they don't require it). By renting directly, you get to choose if you want your bike for just the time we're…
Plan to have your bike rented and ready by our scheduled start time, but we will hang out for a few minutes to give everyone a chance to get organized. We can ride rain or shine :)
1) A Bicycle! Have it ready when we are scheduled to start. We'll meet up next to Pablo's Bicycle Rentals where you can rent a bike for our time together or longer. Reservations encouraged. Rental not included in price of this Experience.
Bicycle Rental: https://pablobicyclerentals.com/
2) Helmet. Typically included with Bicycle Rental.
3) Water bottle (and snacks if you like to have them).
4) Weather appropriate clothing.
5) If you have a few clothing layers, you may want to consider bringing a small daypack too.
We'll take in stunning views of the Cook Inlet and surrounding mountain ranges, cross bike bridges over creeks, wind through the woods, and pause at the first place I saw the northern lights.
参加にはご本人確認(自撮り+身分証の顔写真との照合)が必要です。確認は1回で済みます。
Plan to have your bike rented and ready by our scheduled start time, but we will hang out for a few minutes to give everyone a chance to get organized. We can ride rain or shine :)
サイクリング
Happiness Biking Anchorage Adventure
新着の体験