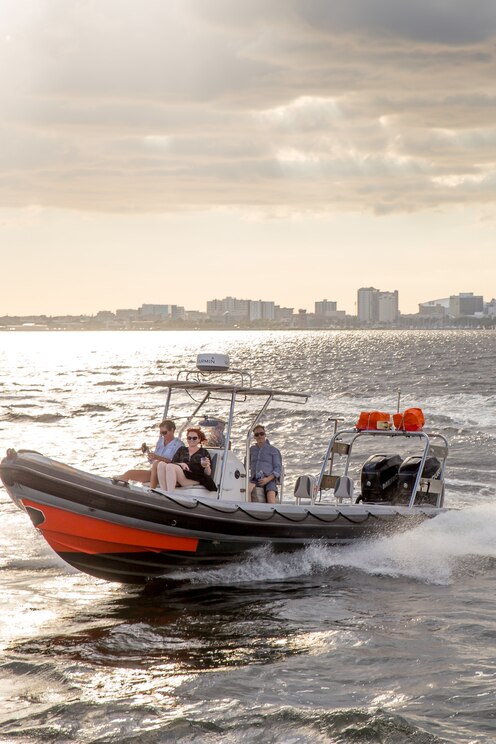 INTENSE ON THE WATER EXPERIENCE
INTENSE ON THE WATER EXPERIENCE
The sports you can do on the water while being towed by our military-type inflatable 32 foot boat with 600HP are basically limited only by your skill, your ability, your physical condition and the equipment you want to use. We can supply a rental or you can supply your own equipment, if special equipment is…
含まれるもの
Equipment, Drinks, Food

If food is required, we can have it catered for you as needed. In this case we will need some lead time.. Bring your favorite…

We will provide ample bottled water.

Special equipment we will provide with ample lead time, at cost. Or if convenient, you can bring your own.
Please read the what else section below about the pricing. PRICE IS FOR THE WHOLE BOAT, not per person. We have been around boats and boating water sports for over a century in combined time on the water. We will be driving safely and guiding you in your adventure. The level of adventure will be up to the guest as our equipment is the best possible in the world and the experiences are only limited by the abilities of the guests.
We will be in the waters of Tampa Bay, the exact location to be determined by the weather/wave conditions, your desires, so it will be fun. You will always have a view of the city or the houses in the neighborhood, or it could be a trip across the bay. The choices are limitless.
今後の予約可能状況
ご希望の日時に空きが見つからない場合は、Patさんにすることもできます。
参加にはご本人確認(自撮り+身分証の顔写真との照合)が必要です。確認は1回で済みます。
We can take up to 10 guests. We show here the cost for 1 person, we show $650 but it is for the WHOLE BOAT, not per person, for 4 hours, plus fuel. Please call for details for additional hours
ボート&クルーザー
INTENSE ON THE WATER EXPERIENCE
新着の体験