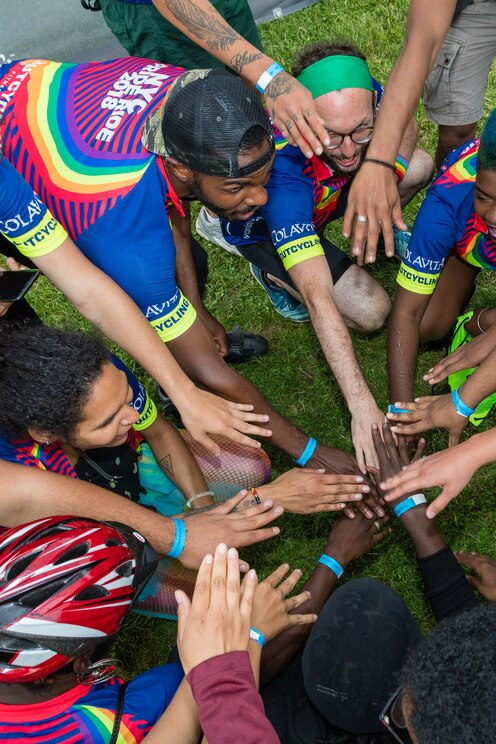 Fly through gay history on a bike
Fly through gay history on a bike
The group will meet at our local bike shop in Midtown-Hells Kitchen on 10th Ave to get our bike for the tour. Then enjoy a beautiful ride along the Hudson River Greenway to enjoy the scenic part of the tour till we get to Christopher Street. We will go through the quiet West village streets to the heart of the…

We can provide sports bar for the ride.
I have been cycling for over 5 years and worked in nonprofit for 4 years, supporting LGBTQ+ youth. I have been a guest speaker for The Center, the 2nd largest LGBTQ center in the world, advocating and fundraising for Youth Programming. I, along with OutCycling Director Graham Weinstein, have been lucky enough to combine our passion for cycling with our passion for support young LGBTQ+ New Yorkers to create OC Fearless Flyers youth program. We use cycling to create community and End Social Isolation.
Outcycling's mission is to provide bicycling activities and promote bicycling as a means of recreation, fitness, and fun. We believe in the physical and emotional health benefits that cycling provides and strive to share that philosophy with everyone. Along with supporting our LGBTQ+ youth, we are building a strong and supportive community. Our motto is: Fun, Fitness and Friendship for all
こちらは社会貢献体験です。参加費は全額、「outcycling 」に寄付されます。
1)The Stonewall Inn: Gay bar & National Historic Landmark, site of the 1969 riots that launched the gay rights movement. 2) Big Gay IceCream Shop: Big Gay Ice Cream is a New York City-based company that operates 2 New York City store fronts. The unusual and unique flavors are LGBTQ inspired. 3) The Center: Since 1983 has been cornerstone of supporting, fostering and celebrating our LGBT community in New York City. Servicing over 1000 per day.
If you have any issues reaching the start point of the tour, you are welcomed to call the phone number listed so that we can guide you over via phone. Bring sunscreen, dress lightly, no/or small bag.
サイクリング
Fly through gay history on a bike
新着の体験