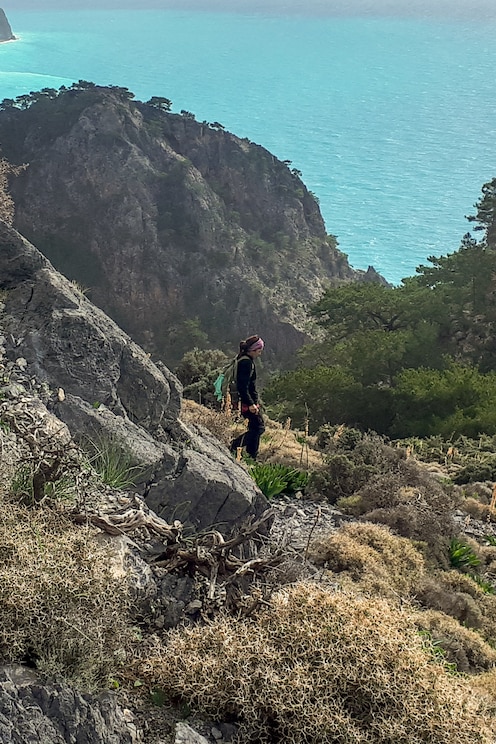 HikeE4 SOUGIA-BOUKELASI(ProfitisHlias)
HikeE4 SOUGIA-BOUKELASI(ProfitisHlias)
We meet in Chania town and we go to Sougia(costal village in southside of Chania). We will be there after almost 2h by car. From Sougia we will start to hike to Boukelasi and Profitis Hlias hill for almost8.5km.The way from Sougia to Boukelasi is on the E4 europian hikking parh, and followes a different direction…
含まれるもの
Equipment, Transportation

Car

Batton
My name is Pari.I am from Samaria and I grew up in Agia Roumeli Sfakia.I have been walking at the white mountains since l was teenager.l am a mountain guide and l have certificate of hiking leader.l have been working many years at the tourism sector and tourist offices. Also in private hiking tours. I have great experianse all over the white mountains, paths all arount Chania,and the E4 hiking path all arount Creta.l also have great idea of nature,plants and animals and endimic spices,culture,habitation,cretan music and local food.
We will go south of Chania to costal village Sougia.we take the E4europian hikking path and get into Keratidas gorge and then hike paralied hight up the coast till the castle of Boukelasi(ancient Poikilasos).Then hike to an other path for a while to Profitis Hlias(church on the top of the hill-view point). Break and pack to Sougia(ancient Syia). Back to Chania
今後の予約可能状況
ご希望の日時に空きが見つからない場合は、Pariさんにすることもできます。
The hike is 8.5km to go and 8.5km to back,about6 hours hikking plus 4 hours go and back by car.Its one of the most beutifull parts of the E4 path.If there is enough time after the hike you can swim.
ガイド付きハイキング
HikeE4 SOUGIA-BOUKELASI(ProfitisHlias)