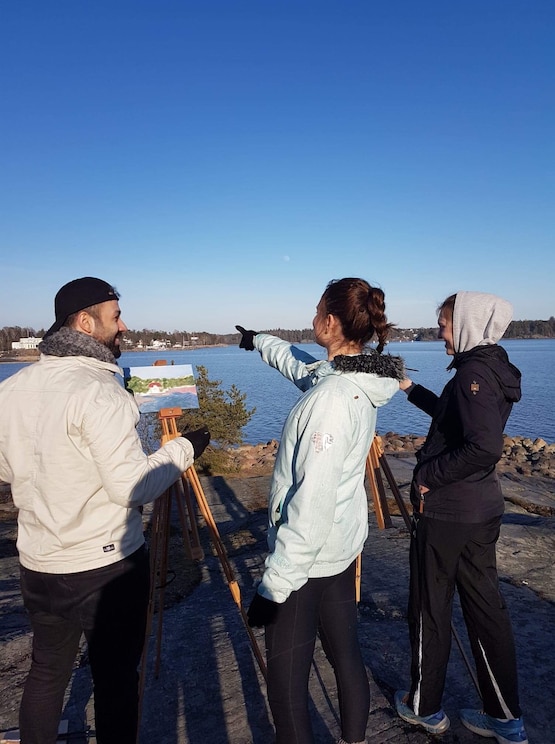 Try Fully Equipped Landscape Painting!
Try Fully Equipped Landscape Painting!
The main goal of the event is to allow you to see nature through the painting and express your own vision on the canvas. Also, you will be able to create a tangible memory of Finland with your own hands. For the experience, you DO NOT HAVE TO have any previous experience in painting. As soon as we put on our…
含まれるもの
Equipment, Drinks, Food

Vegan snacks for our breaks

Refreshing organic tea

Painting Equipment and Clothes (Easel, brushes, oil paints, medium, 1 canvas, packages for wet painting, apron and gloves)
I'm passionate about art and spreading its miraculous effects. I have been practicing painting since my childhood, I have finished Art School in my home town, Sortavala 10 years ago and Summer Session in The Florence Academy of Art in Sweden in 2017. As a great lover of nature, I have been doing landscape painting in Finland and other countries for more than 5 years now. In my free time, from work and studies, I have been developing my skills with passion by attending art workshops in Finland, France, and Sweden; learning painting techniques.
After we meet at the agreed place, we will head to the Kulosaari Island, which is located just 9 mins by metro from the center. Island has wonderful sea views as well as wild forest. There we will find a perfect place that you will start painting with my help. In total, we will spend 5 hours outside, including break with snaks.
ワークショップ
Try Fully Equipped Landscape Painting!