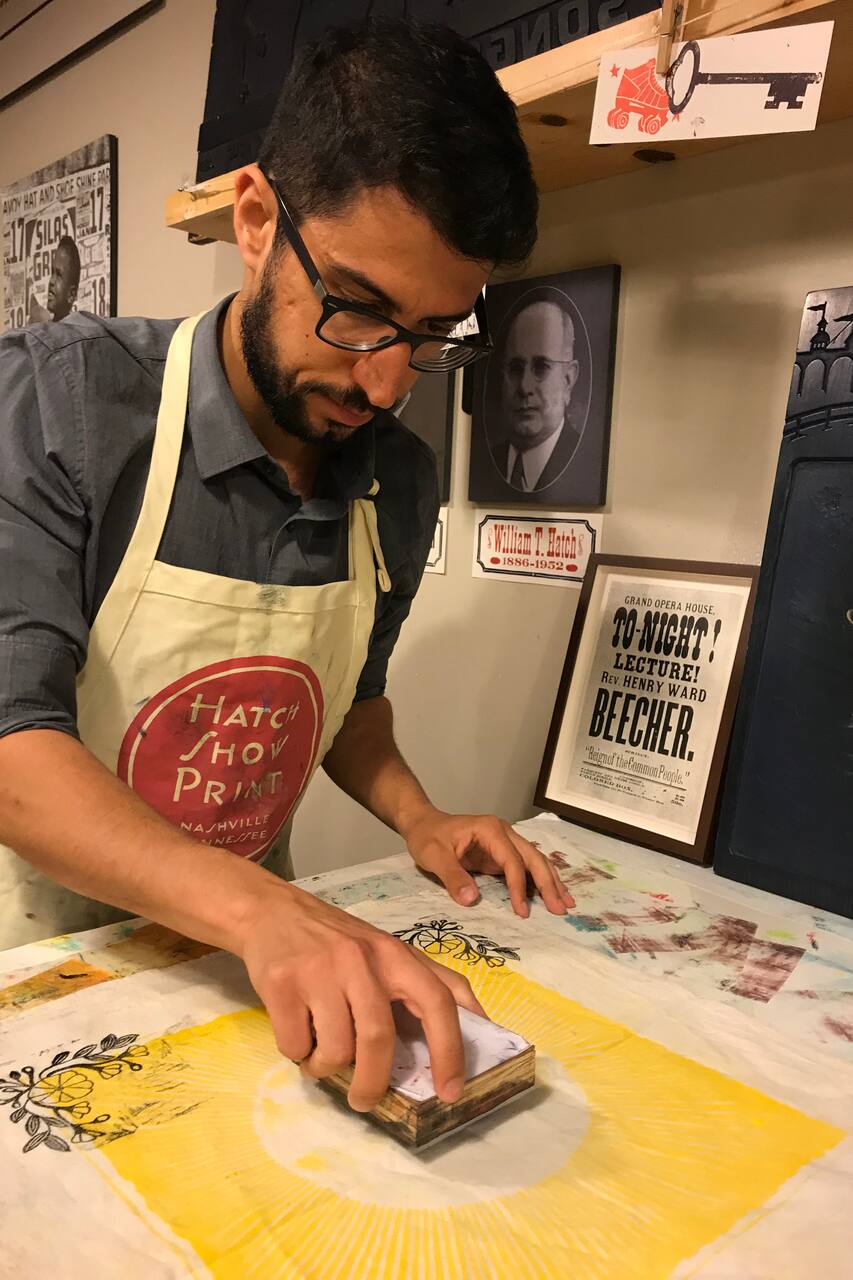 Hatch Show Print Block Party
Hatch Show Print Block Party

予約のとれない人気体験です。
I am a native Tennessean, from Columbia, TN. For as long as I can remember, even before I could tell you where they came from, I have been looking at posters made by Hatch Show Print. Established in 1879, this letterpress poster and design shop is America's oldest letterpress poster shop with this depth of history and new work. The shop's posters established the look and feel of live entertainment…
Country Music Hall of Fame and Museumについて
HATCH SHOW PRINT Founded in 1879, and making posters the same way today. The process, known as letterpress, involves using hand carved image blocks, setting wood and metal type, inking, and pressing these elements onto paper to form a poster or print. The shop's vibrant posters served as a leading advertising medium in the last century, and are commemorative pieces in this century.
こちらは
社会貢献体験
です。参加費は全額、「Country Music Hall of Fame and Museum」に寄付されます。
The Block Party offers an opportunity for participants to work with a selection of the hand carved image blocks, and become familiar with the process of the inky art of printmaking. Instruction will cover the basics of laying out images, with consideration given to creating layers, and using color. After some introduction to the best way to use the ink and brayers, the pieces are finished by…
IMPORTANT BOOKING NOTES: There MUST be a min of 6 people in this experience in order for it to move forward. This can be sets of individuals. Max 12 people. *LET US KNOW IF YOU DO NOT SEE YOUR DATE! We will see if we are able to accommodate. Check out our Instagram: @hatchshowprint
アート・クラフトの材料
Tea Towels, Tote Bags, Jewelry Bags, (1) T-Shirt of your choice to print on and keep!
You will visit Hatch Show Print, a 140 year old letterpress poster and design shop that still operates in the same manner today. When the shop moved to its current home on 5th Avenue South, a classroom was added to conduct tours and workshops. Covered floor to ceiling with posters from its archive, you will be surrounded with inspiration as you use some of the same hand carved images to print your own design.
IMPORTANT BOOKING NOTES: There MUST be a min of 6 people in this experience in order for it to move forward. This can be sets of individuals. Max 12 people. *LET US KNOW IF YOU DO NOT SEE YOUR DATE! We will see if we are able to accommodate. Check out our Instagram: @hatchshowprint
ワークショップ
Hatch Show Print Block Party
新着の体験