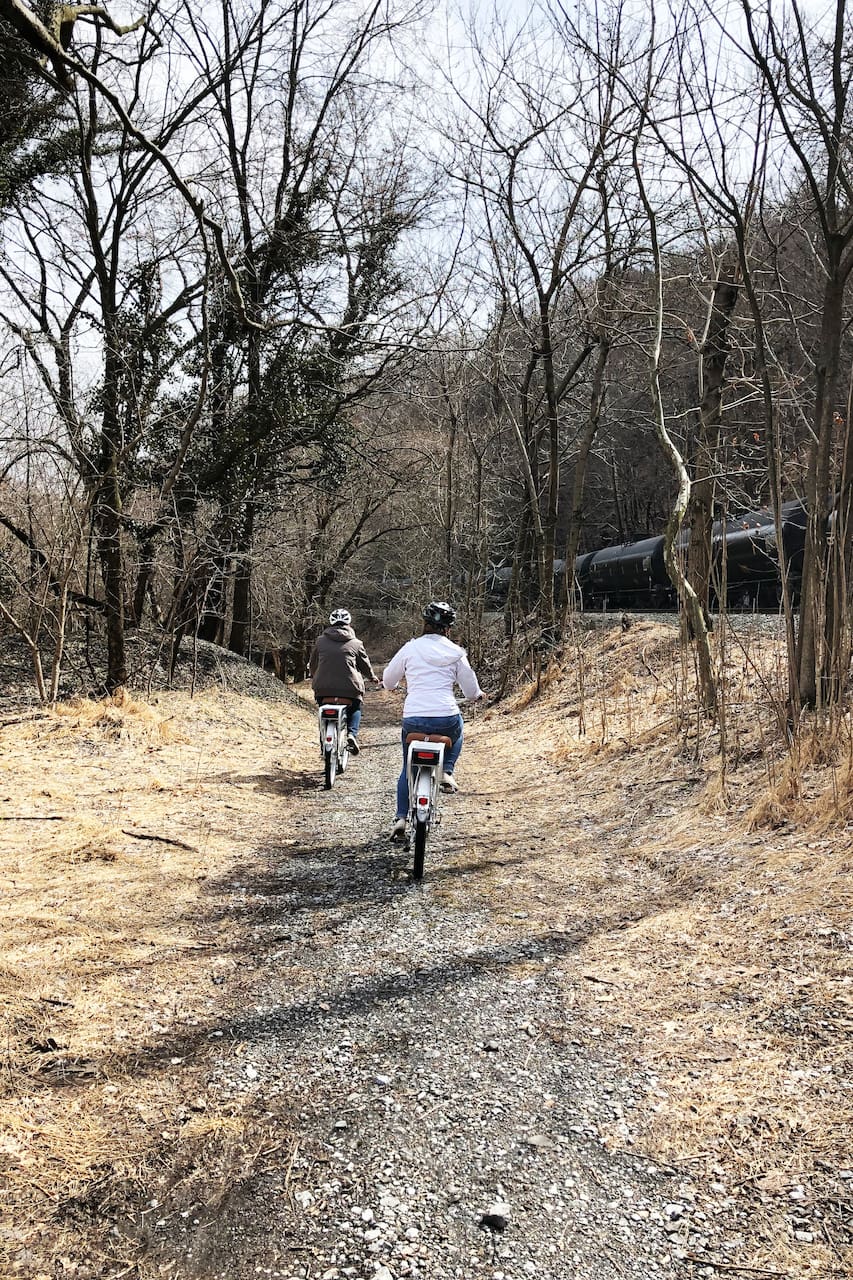 Harper's Ferry by Electric Bike
Harper's Ferry by Electric Bike

好評受付中! ご予約はお早めに。
Electric bikes are awesome! And I—a 56 yr old woman—never dreamed I would be so excited to ride bikes again! With my love of Harper's Ferry and my experience from hosting guests at our airbnb here, I want to show you all the sites our beautiful town has to offer..... from the seat of our comfy bikes!
Tame the hills and see Harper's Ferry as never before! We meet at our bike shop and have an intro to electric bikes. You will be fitted with helmets and we'll go over safety tips. I will give you a map, vouchers for lunch and a park pass. We begin with a ride on a fairly flat road to "The Overlook" where you might want to take photos. Once you are comfortable with the bike we will head downtown…
You should be able to ride a bike before booking. Our bikes will assist you in going up hills and in peddling on long stretches of roads. Teenagers 13-17 must be accompanied by a parent/guardian
チケット
Harper's Ferry Nation Park map.
用具
Electric "Pedal Assist" Bike and Helmet
Comfy clothes for riding a bike
Tennis Shoes (no flip flops)
Jacket or Rain Poncho (depending on weather)
Charging Cable for your Phone - optional
We will visit The Overlook, Jefferson Rock, Saint John's Ruins, the Catholic Church, The Point, the Waterfalls on Shoreline Drive, the Park Visitor Center, the Jefferson County Visitor Center and Boliver Heights Scenic Overlook. Lunch at Rations Cafe, Canal House, or Kelly Farm Kitchen, our Vegan specialty cafe.

好評受付中! ご予約はお早めに。
参加にはご本人確認(自撮り+身分証の顔写真との照合)が必要です。確認は1回で済みます。
You should be able to ride a bike before booking. Our bikes will assist you in going up hills and in peddling on long stretches of roads. Teenagers 13-17 must be accompanied by a parent/guardian
ガイド付きハイキング
Harper's Ferry by Electric Bike