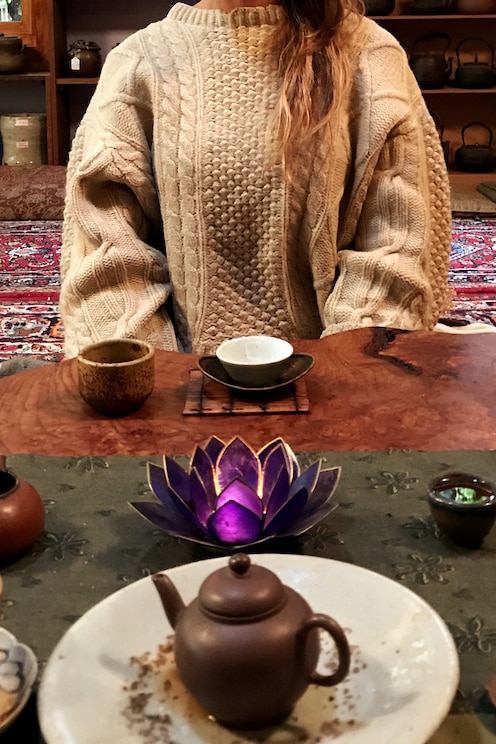 Tea Journey in the Tea Temple
Tea Journey in the Tea Temple
You will come to our beautiful home nestled in the woods and enter the tea temple filled with the delicate incense, the rare tea collection, ancient art from Asia, persian carpets, and soft music. We then begin the Chinese tea ceremony and drink rare teas which will shift us into a deep state of relaxation and…

Rare Chinese teas
I am founder and owner of Heavens Tea. I have been performing tea ceremonies and worked with tea as a yogic practice every day for over 20 years. I have focused on working with rare tea as vibrational medicine for self cultivation and healing. My mission is connect people to the spirit of tea and teach them how to work with tea as a way to harmonize with self, other and nature. I have been an adjunct faculty member at NUNM school of Chinese Medicine where I taught tea culture and have also been a guest curator at the Portland Art Museum for an exhibition of rare Tibetan art.
The Tea Journeys are held in a private home on two wooded acres on Johnson Creek, directly nest to the 18 acre Leach Botanical Gardens. Our home is a residential artists cooperative called Onedoorland and has a lotus pond, and outdoor meditation hut and the home itself is filled with paintings and art made by residents and community.
今後の予約可能状況
ご希望の日時に空きが見つからない場合は、Paulさんにすることもできます。
I suggest a light meal or snack before hand. Also the teas have caffeine, but not allot and tend to be relaxing and restorative to the body.
茶道
Tea Journey in the Tea Temple