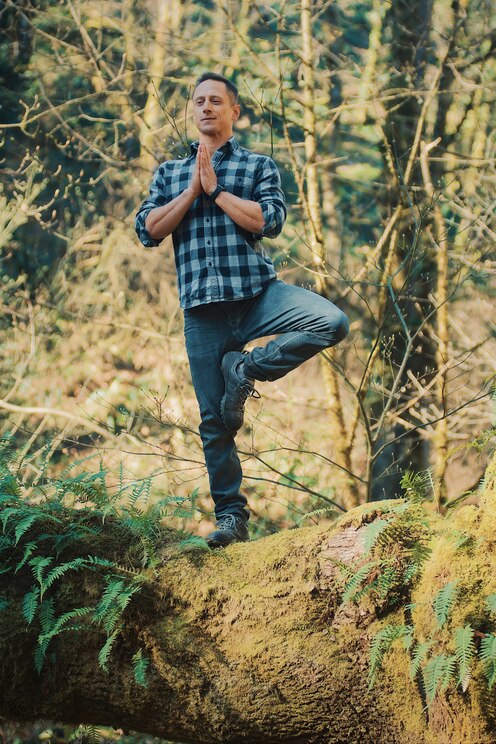 We'll meet at the easy to find trailhead. The closest "Sasquatch country" East of Seattle. Just a few minutes from downtown Seattle, settled in the foothills of the Cascades is Coal Creek and the Coal Creek natural area and trail system. We'll take a moment to meet each other and everyone in the group before…

While you should bring your own, I'll have extra water just in case.

1/4 yoga mats sufficient for our trail side practice.
I've been hiking these trails for 35 years and have practiced yoga for over 15. I have completed a 200 hour RYT Program in accordance with the International Yoga Alliance. While I am from here originally I have lived in New York, Las Vegas, Richmond, L.A., Kihei, Montreal, Frankfurt, Shanghai, Beijing, etc in either the Adventure or Entertainment industries. Working as an independent contractor with Celine, Bette, Elton, Chappelle, Seinfeld, Don Wrinkles, George Carlin, Seth McFarland and many more has afforded me the opportunity to travel and explore. With a background in Survival Skills, Search and Rescue, EMT, Bungy and adventure based team building I'll keep us safe and on track!
In any season and every condition, beauty of the wilderness is abound. Moss and ferns are plentiful as are towering trees. Confluences of creeks and streams create many waterfalls and pools all along the journey. We'll also pass multiple signs of the coal mining history of the area that I'll be happy to discuss to those interested. Pending the group this hike is approximately 6 miles long, every step of which is beautiful.
今後の予約可能状況
ご希望の日時に空きが見つからない場合は、Ryanさんにすることもできます。
In any weather please bring layers sufficient for surprises and pants and shoes that you don't mind potentially getting muddy.