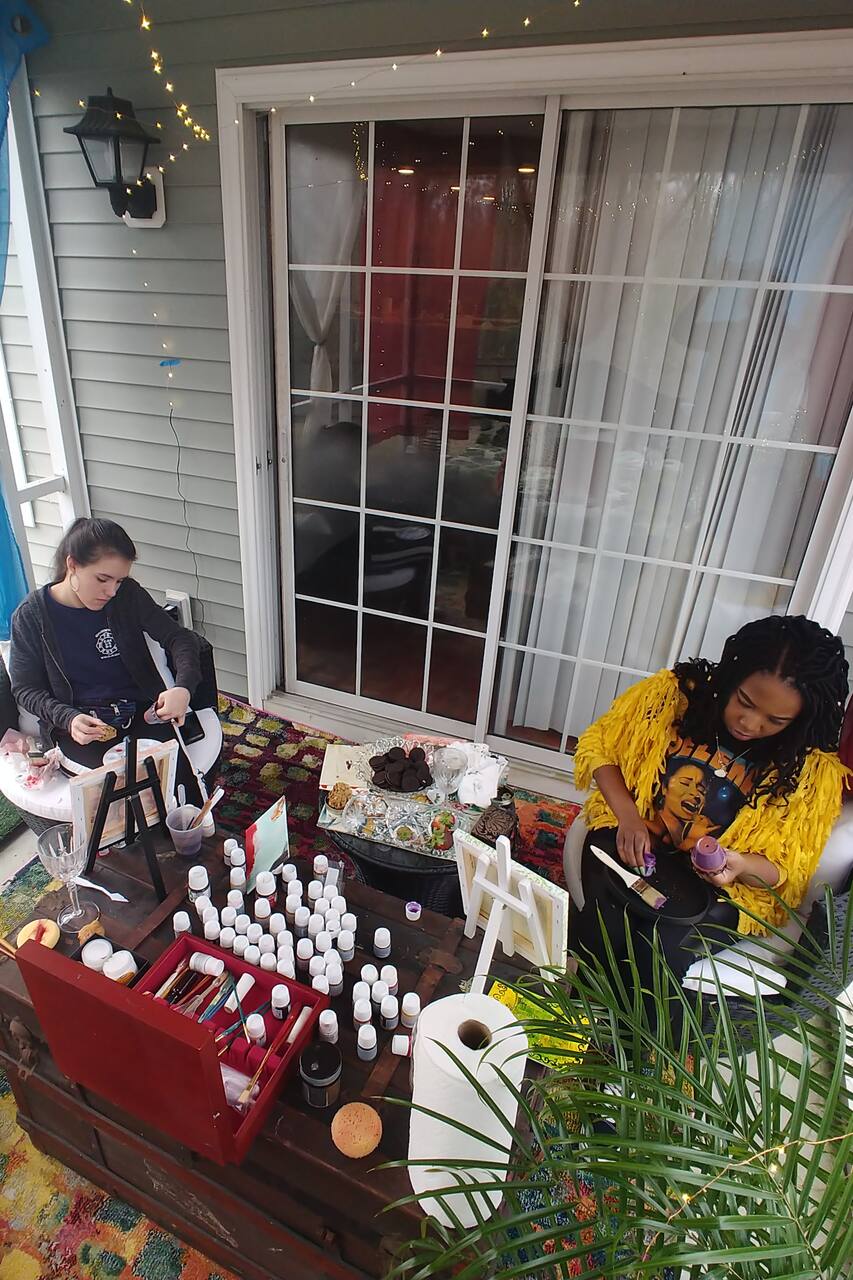 Sip and Paint Creatively with Ambience
Sip and Paint Creatively with Ambience
Includes:
食べ物、ドリンク、チケット1枚、用具
I enjoy writing, painting and sipping wine in my spare time to help me unwind from my busy week. I have been doing this on the weekends for a few months and it's been so very therapeutic and fun. It would be my pleasure to share this fun experience with you. We will not use traditional paints, we will explore our creativity with pebeo's fantasy prisme abd fantasy moon paints. All supplies will be…
We will meet at my home, where I will have our canvases set up along with all supplies needed to begin our creative adventure. Imagine a slightly bohemian, tropical oasis for a group of up to four. We will begin with a short centering exercise, then we will listen to the mellow strummings of Jack Johnson, Colbie Caillat, or Jason Mraz playing in the background, with a glass or bottle of your…
If you are concerned about a designated driver, I do have one readily available. My son and I will be sure you get back to your AirBnB or hotel safely
軽食
I Will provide Chocolate Covered Strawberries, decorated with Almonds, crushed Oreo cookies, Coconut Shaving, and sprinkles.
ドリンク
I Will provide water, wine, beer, or liqour. If you have something you would like drink, feel free to bring your own.
チケット
I will also provide a small gift box to put your painting in.
用具
I Will provide all painting supplies to include the paints.
You can bring a change of clothes if you like. I recommend wearing something you dont mind getting paint on.
A Designated Driver. But if you don't have one, I do!
We will work from my screened in back patio. However, we have the option to work outside in the back yard.
参加にはご本人確認(自撮り+身分証の顔写真との照合)が必要です。確認は1回で済みます。
酒類を伴う体験です。酒類は法定飲酒年齢以上の成人ゲストにのみ提供されます。
If you are concerned about a designated driver, I do have one readily available. My son and I will be sure you get back to your AirBnB or hotel safely
アートクラス
Sip and Paint Creatively with Ambience