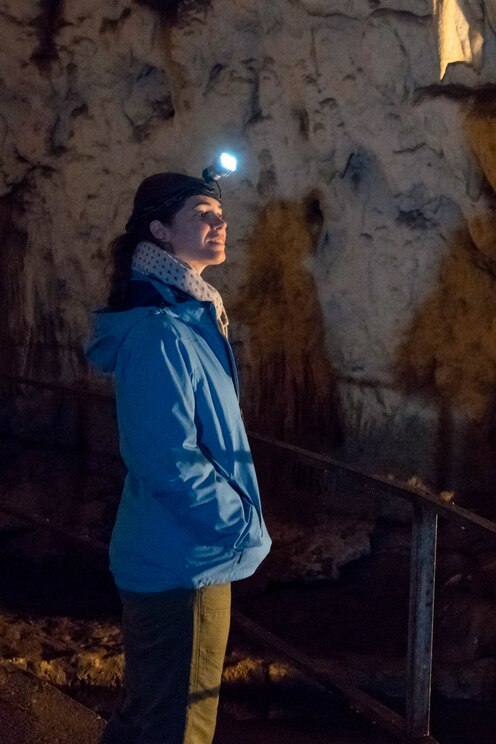 We start at Kalkbay train station and then begin our hike though echo valley with great views over Kalk bay harbour. We hike for about an hour before we get to our first cave which is named Boomslang (tree snake). It is named that way because you have to crawl on your hands and knees to enter. After a short while…
含まれるもの
Equipment, Drinks, Food

I provide a sumptuous vegetarian packed lunch that we get to enjoy after the 2nd cave. Special requests vegan etc. welcome.

After the experience which can be quite harrowing for some I will provide the first round of drinks at the brass bell.

I will provide a headlamp for everyone as this is essential on the trip. Turn it off to see what pitch black means!
I grew up in Cape Town and I love the mountains, beachs and caves that are hidden away here. I started caving in Kalk bay when I was 13 on a school trip, and they immediately captured attention, once I finished school and started travelling I took this passion with me and I have explored many many caves since then everything from the giant deer cave in Malaysian Borneo the world's largest cave to cave diving in Mexico where the water is crystal clear and haloclines are formed between the salt and fresh water. I love caves, I love the challenges, beauty and hidden secrets that they represent.
I need to emphasize that Boomslang is a relatively easy cave that anyone can do. Robin hood is a very challenging cave with an extremely tight doorway, if it you manage that you will be fine if not I have some splendid hammocks where you can catch up on your reading time. It should be noted that if you suffer from severe claustrophobia or a fear of heights you should not attempt Robin Hood. This is a real caving experience for the adventurous!
酒類を伴う体験です。酒類は法定飲酒年齢以上の成人ゲストにのみ提供されます。
This is a challenging experience, you will be required to crawl,scramble,slide and otherwise get your body into interesting positions in the caves you may get a little damp,but the reward is worth it!