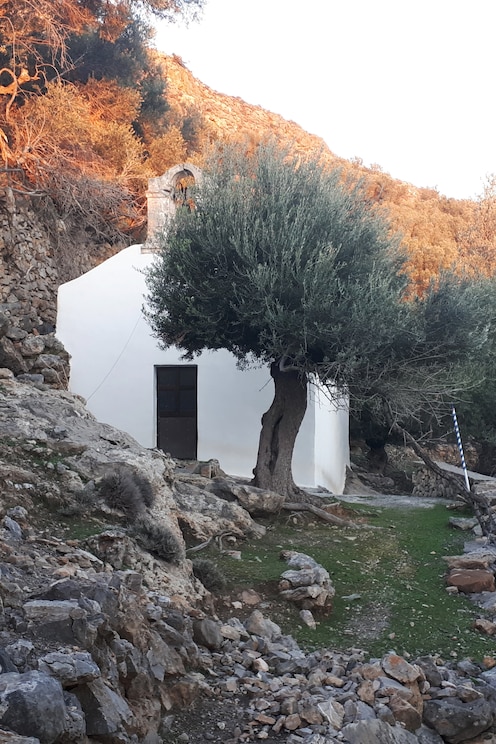 The way to abandone MOYRI.SfakiaHiking
The way to abandone MOYRI.SfakiaHiking
Starting from Chania and after 1h40min by car we go to Chora Sfakion the historic capital of Sfakia.After a short stop for getting some coffee if you wish we start hike to Mouri the abandone old village at 1000m altitute.First we pass throught the abandone Giorgitsi with the ruins of the stone old houses hiking on…
含まれるもの
Equipment, Transportation

Transfer by car trom Chania to Ch. Sfakion and back.

Batton
My name is Pari. I am from Samaria and I grew up in Agia Roumeli at the province of Sfakia .I have been walking at the white mountains since l was still teenager.l am a mountain guide and l have sertificate of hiking leader.l worked many years at the tourism sector and tourist offices. Also in private hiking tours. I have great experianse all over the white mountains, paths all arount Chania,and the E4 hiking path all arount Creta.l also have a great idea of nature,plants and animals and endimic spices , culture, habitation, cretan music and local food.
Chora Sfakion is the costal village that we visit first, then Giorgitsi that is a neibourhoud of Sfakia that the path goes from, next to the small gorge.then a forest starts from Kombotsi that we will continiu throught cypreses mostly. Getting at the top(Mouri),the forest ends.The neibourhoods of Mouri apears with the ruins of the abantant old houses.
今後の予約可能状況
ご希望の日時に空きが見つからない場合は、Pariさんにすることもできます。
参加にはご本人確認(自撮り+身分証の顔写真との照合)が必要です。確認は1回で済みます。
Very special hiking,1000m altitute diferens, 14km.For quite active people kids and overage people not recomented..Not responsible for weather condition cancellingNeed to rereserve for other day.
ガイド付きハイキング
The way to abandone MOYRI.SfakiaHiking
新着の体験