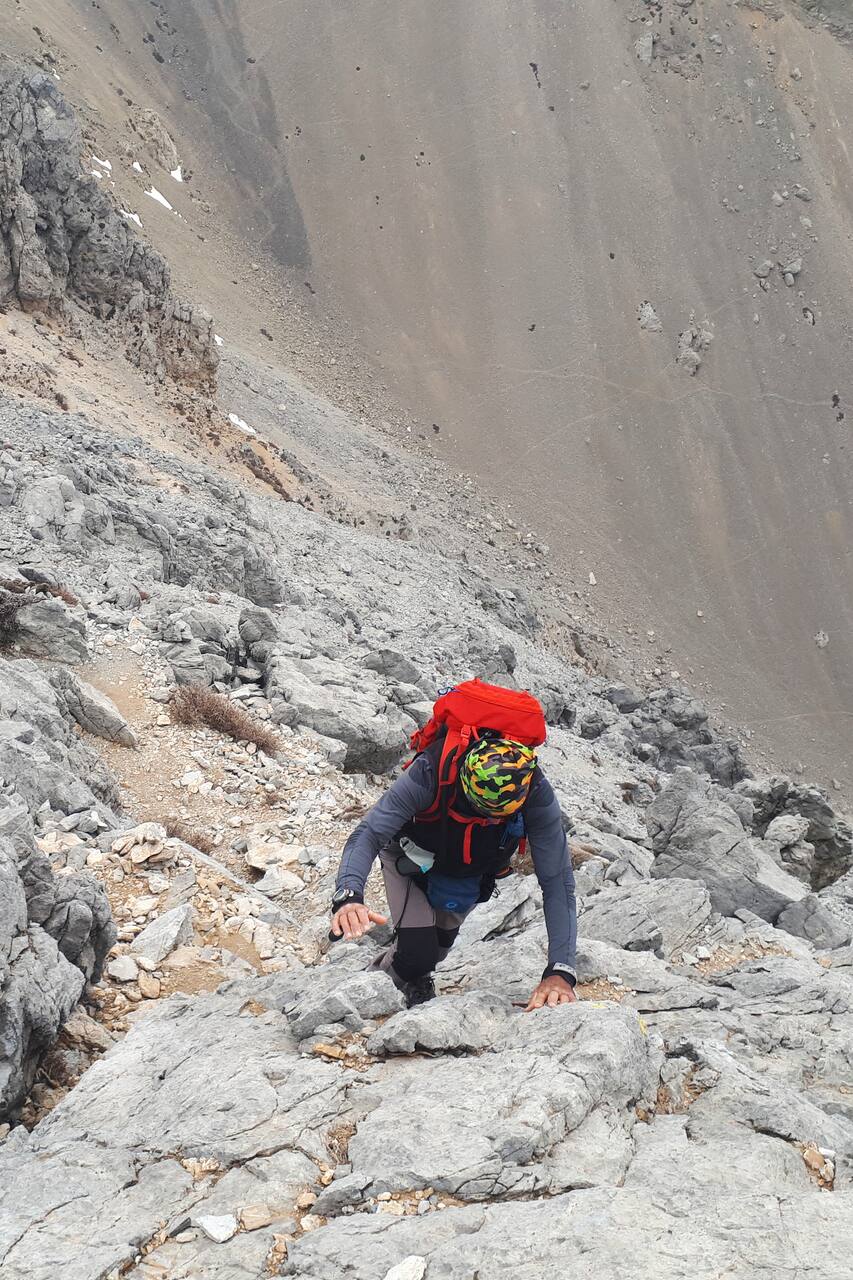 GIGILOSwild.Climbing at 2000m altitute
GIGILOSwild.Climbing at 2000m altitute
My name is Pari. I am from Samaria and I grew in Agia Roumeli at the province of Sfakia .I have been walking at the white mountains since l was still teenager.l am a mountain guide and l have sertificate of hiking leader.l worked many years at the tourism sector and tourist offices. Also in private hiking tours. I have great experianse all over the white mountains, paths all arount Chania,and the…
We start 7am from Chania driving for 1h up to Omalos plateu at the white mountains rangeThen we will start hiking up for the first kms till the Linoseli spring getting there throught the arch Xepitira and the (touers) of Gigilos. We will have a stop there for 15min to rest a little and feel our bottles with fresh cold watter from the spring. This might take about1 1/2hour. Then we continiu hike up…
This action are not recomented for people that afraid height and dont have good phisical condition. Weather play an important role for this action.All must have traveling insurans
移動・送迎
Transfer from Chania to Omalos plateu and back to Chania
Hiking shoose/boots, right clothing depenting on weather
A bottle of watter a small snack
Hat, sunglasses,suncream,
We will visit Omalos Plateu that itis on 1280meters altitute. Thene we end at Xiloskalo that is the bigining of the way to Gigilos and also where Samaria gorge starts. We hike till the spring of Linoseli throught the Xepitira arch. Continiu till the sell of Linoseli,and finaly up to the Gigilos summit. We will returne the same way back to xiloskalo and Omalos plateu that we will have lunch and returne back to Chania.
If you don't see availability for the time you are looking for, you can .
参加にはご本人確認(自撮り+身分証の顔写真との照合)が必要です。確認は1回で済みます。
This action are not recomented for people that afraid height and dont have good phisical condition. Weather play an important role for this action.All must have traveling insurans
ガイド付きハイキング
GIGILOSwild.Climbing at 2000m altitute
新着の体験