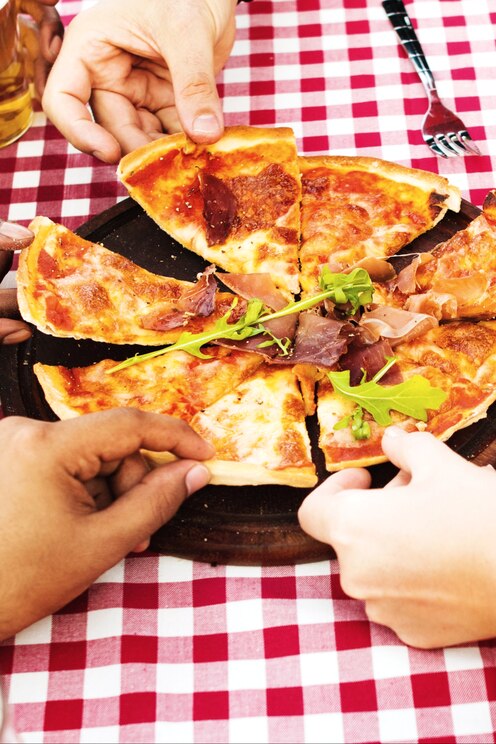 GlutenFree pizza masterclass with chef
GlutenFree pizza masterclass with chef
In this masterclass workshop, you will learn how to make delicious gluten-free pizza, using what mother nature gives us naturally free of gluten. You will learn also about the nutrition values of the unusual flours used, how to combine them together and the magic of fermentation. In the meantime, an already raised…

Materials, tools and aprons. All ingredients as well as the pre-made pizza to eat at the end of the workshop.
I am a books author, chef trainer and, most of all, experienced Chef. I have been evolving my naturally gluten-free cooking philosophy for the last 18 years. Raised in my family's restaurant, in Abruzzo (Italy), I developed a natural passion for cooking at a young age. The first big turn in my career was when I discovered I was coeliac, 18 years ago. This event made me rethink my whole cooking philosophy, which is now based on authentic, healthy cuisine, strictly naturally free of gluten, cow dairy/lactose, refined sugar, soy, corn. My favourite to make? Bread and Pizza, of course!
The workshop is held in the comfort of my home kitchen. xxxxxxxxxxxxxxxxxxxxxxxxxxxx xxxxx xxxxxxx
参加にはご本人確認(自撮り+身分証の顔写真との照合)が必要です。確認は1回で済みます。
For any other food allergies apart from gluten please, let me know. Feel free to bring your favourite drinks. Water, tea and coffee are available. 料理教室
GlutenFree pizza masterclass with chef
新着の体験