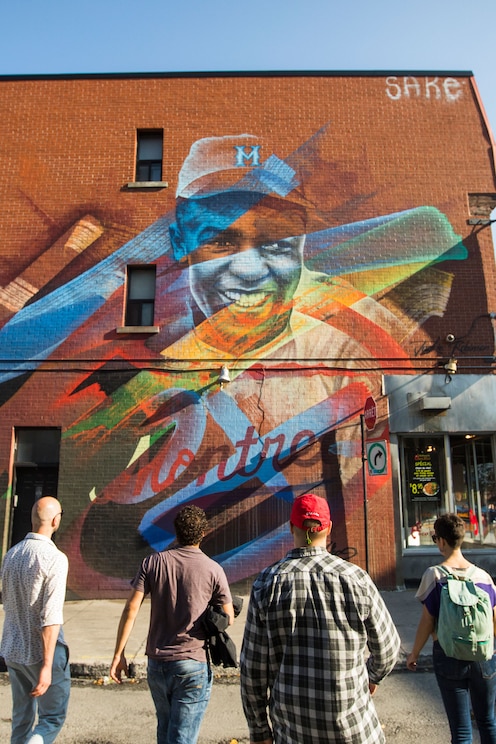 This walk takes you through the must-see Plateau neighbourhood to take in some of the best street art Montreal has to offer. As you zigzag through this hip and artsy part of town you will discover why Montreal is known as Canada's top cultural destination. The city has an astounding number of beautiful murals…
We both founded bike tour companies out of laneway garages 10 years ago, on different continents - Diego launched BA Bikes in Buenos Aires, and Shea launched Fitz & Follwell in Montreal. We've combined our passion and knowledge to offer top-notch bike & walking experiences here in Montreal - the kind we look for when we go traveling ourselves. We'll show you the best art, architecture, urban development, nature, and local events & festivals, but we also aren't afraid to show you the grit, imperfections, and realities of what living in Montreal is like! This walk was co-created by guide Veronique (pictured in the photos). She is a true Montrealer who holds a BFA in Art Education from Concordia University and studied Fine Arts at Bauhaus University in Germany. Sébastien, Daniel, and Marie-Pier are also hosting this experience!
Start the walk at Le Livart; a non-profit art space (*Mon-Tues departs from Artgang on St-Laurent blvd*). Explore alleyways, charming Plateau streets and busy St-Laurent where murals and artworks dot the path. See some of Montreal's best-known street art such as the Leonard Cohen mural, WIA's depiction of Canadiana and much more. Stop for a beverage at a hip coffee shop and feel the neighbourhood's creative vibe!
今後の予約可能状況
ご希望の日時に空きが見つからない場合は、Shea And Diegoさんにすることもできます。
Bring some CAD$ or credit card to buy a coffee or snack! The tour runs year round, rain or shine so plan ahead and dress for the weather especially in winter! We will stop inside along the way.