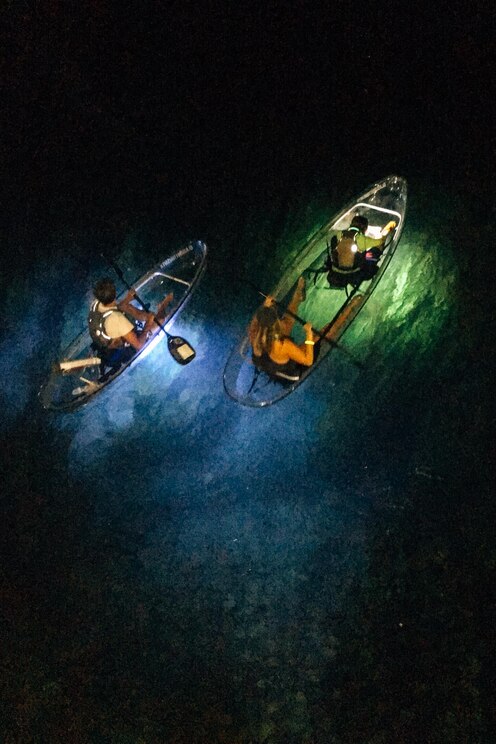 Gear up, and learn the basics as the sun sets, and it cools off. Then enjoy the glow of the LEDs shining under your clear window to the water as you paddle through the riverwalk of downtown Houston in our most stable Crystal Kayaks and Stand Up Paddleboards! Don't be surprised if the birds do a little fishing in…
含まれるもの
Equipment, Transportation, Drinks

Ice cold water

Shuttle with equipment

Glassbottom kayaks & SUPs
Teaching paddling to amputees at the Metropolitan Recreation Center, and for the Bayou City Outdoor Club for 12 years has shown how relaxing paddling can be! The combined effects of paddling on a cloud of light in our clear bottom kayaks, and the dark of night tune you in to your own body in a fresh new way. Come enjoy the cool of the night on a warm cloud of light with the care and guidance of an Olympic Kayaker.
The Red River Racing Team
Red River Racing was founded in 2001 on the San Marcos river and Interstate 35, where kayak instruction and paddling could be done year round. Our Mission: To enhance lives through creating river adventures for all ages and abilities. Our Vision: To be the top instructional center for kayaking, Paralympic Canoe/Kayak, and wounded warrior adventure therapy.
こちらは社会貢献体験です。参加費は全額、「The Red River Racing Team 」に寄付されます。
Glass Bottom Kayaks are only available through us in Texas, and since it is so hot we prefer to do our tours in the cool of the night with the enhancement of bright LEDs creating a relaxing glow in the water!
You may get wet so please wear sandals and something like lycra, UnderArmor, or swimwear. Fishing pants, Columbia shirts, yoga pants and shirts are ideal examples for this easy, outdoor trip.