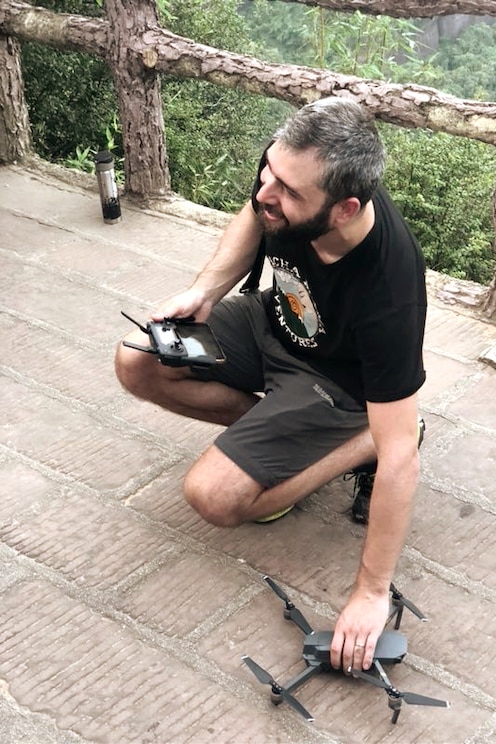 Sunset hike & drone videography tutorial
Sunset hike & drone videography tutorial
We will hike to the top of a mountain called Huolushan that is overlooking the city. The hike is a pleasant one and it's paved all the way. It should take us about one hour to get to the top, then another 30 min to get down to our resting spot. On a nice day you will get to see the skyline of Guangzhou from afar…

DJI Mavic drone & goggles With the wonderful technology of DJI you will get the bird's eye view of the surrounding areas
My name is Lukasz and a big outdoor enthusiast, always looking for new hiking spots around the city. Two years ago I started my own outdoor adventure company and I started using a drone to take professional videos and photos of the trips I organize. Also I wanted to give my guests a bird's eye perspective of the places we visit through the DJI goggles. At this point I became very comfortable flying the drone and I would like to share my experience and insight with you.
You will spend a wonderful evening in a scenic area called HuoLuShan that is overlooking the city. You won't believe how easy it will be to escape all the noise and commotion of the city. On a good day you will see the skyline of Guangzhou. We will hike to my favourite spot of the mountain that is particularly picturesque.
今後の予約可能状況
ご希望の日時に空きが見つからない場合は、Lukaszさんにすることもできます。
Please be advised that during the tutorial, I will be the one flying the drone to avoid any potential risks. Also please note that this experience relies completely on the weather conditions, if it happens to rain we can still hike but we cannot fly the drone until the rain stops.
ガイド付きハイキング
Sunset hike & drone videography tutorial
新着の体験