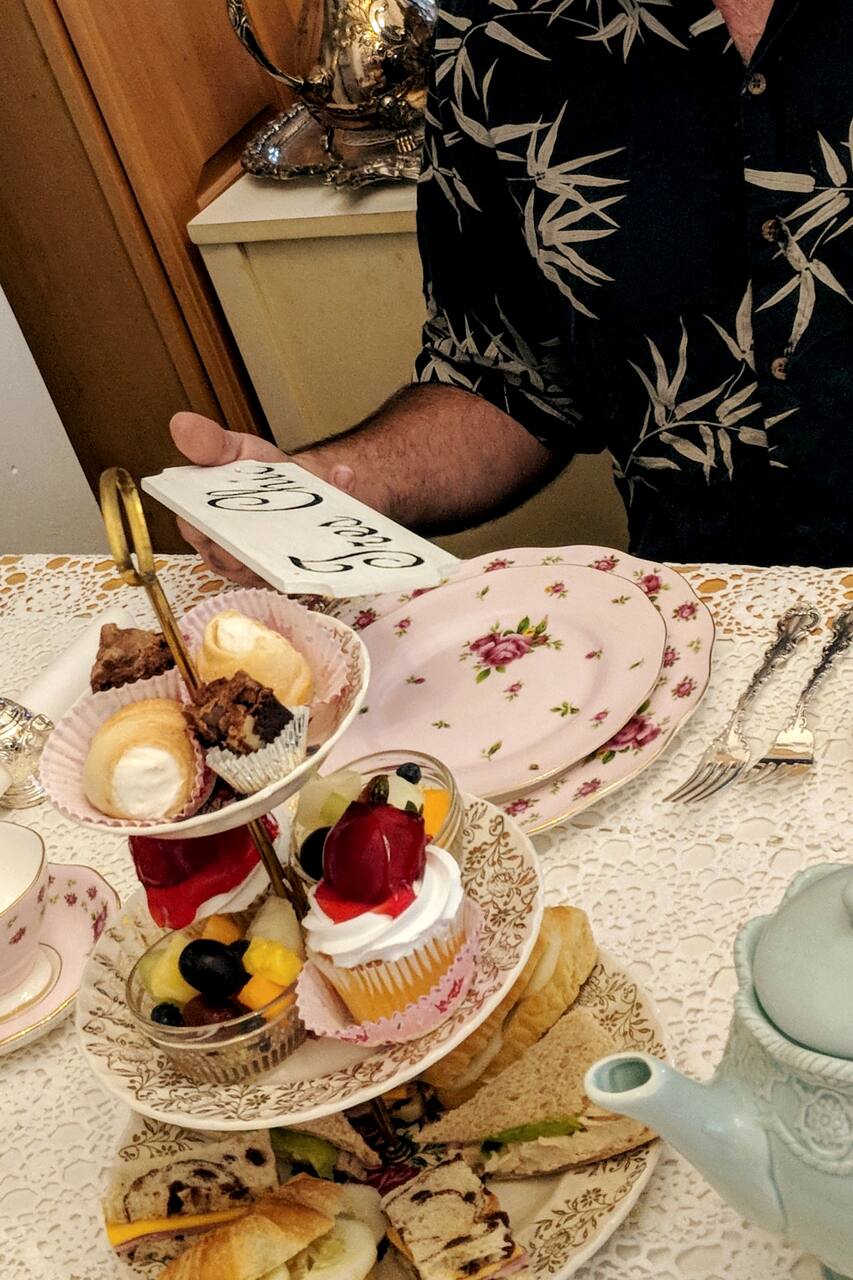 Hanes Haus CrafTea Experience
Hanes Haus CrafTea Experience
Lee is a recognized artist working with various mediums, especially wood and pvc. Siobhan is a prof. baker and previous owner of The Stonehouse restaurant and bakery and owns Fairy Foods. This dynamic duo have teamed up to create CrafTea in a lovingly restored Victorian home on Main St, in the beautiful historic district of Alachua. Guests create personal signs or crafts while enjoying a high tea…
This fabulous experience begins with guests served traditional tea fare on tiered trays, listening to beautiful music in a lovingly restored Victorian parlor. At leisure they select, at a crafting table, a 12" sign or craft to paint, & personalize. They will learn tips and techniques for painting and embellishing to customize to their satisfaction. Guests choose from latex paints and an…
Children under 12 must be accompanied by adult at all times.
食べ物
Scrumptious Tea Fare Traditional Tea w/ accoutrements on 3 tiered trays including: Finger Sandwiches, Desserts, Scones, Lemon Curd and jams.
ドリンク
Pots of Classic Fine teas Not a hot tea fan? We also have Lemonade, fruit waters, coffee or hot chocolate and of course iced tea (this IS the south) :)
用具
Custom Sign or Craft A quality, custom sign or craft. ie: Fairy Doors. All supplies necessary to customize and take your treasure with you.
Nothing is needed to enjoy this fun and delicious experience!
This experience takes place inside a classic 2 room parlor of a beautiful Victorian home (Formerly The Pink Porch) on Main street, along with an art studio owned by your hosts. The home was lovingly restored and no attention to detail was spared to bring you a fine experience and enjoyable memory. Even our bathroom is charming and photos are encouraged. We are ADA compliant with a ramp or stairs (your choice) and ample FREE parking.
アート&デザイン
Hanes Haus CrafTea Experience
新着の体験