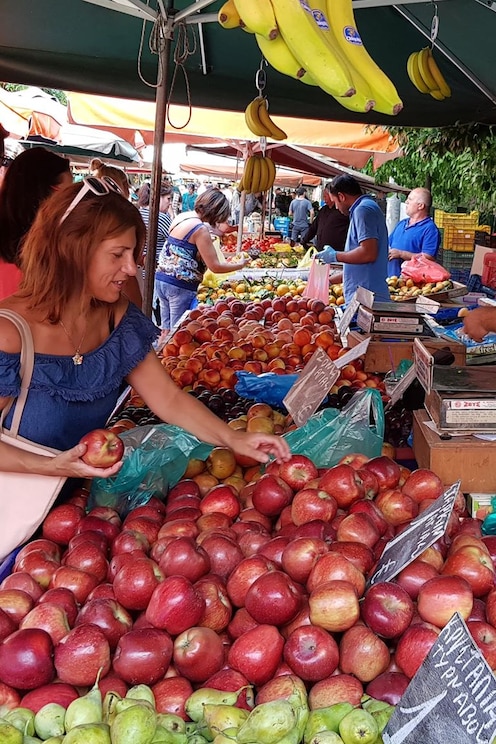 Miss out on tourist places and go deeper into "Athens for Athenians" as we travel into the local food shopping and socialising areas of Athens. Visit Athens like a local as we introduce you to merchants and family shops that know us very well. We will visit fish, meat, fruit and spice markets full of colour,…

Fresh Greek salad, creamy feta cheese, fava beans, Gyros souvlaki, bread, fresh anchovies or lamb with lemon potatoes in the…

Locally made , unique to Athens wine straight from the barrel, Traditional Greek ouzo from beautiful Lesbos Island.
Welcome to Athens! Please read our reviews and see that we truly love what we do. All our tours are run by either one or both of us. We do not use other guides for our tours! Athenian Michalis has a deep love for his city. He is an expert in knowing great, secret tavernas and bars in local spots of Athens. His family are cooks and food has always been a passion that he enjoys sharing! Rachel is originally from Thessaloniki in the north of Greece but grew up elsewhere, moving back here to fulfill her ambition to show people the Athens that she loves so much! Together we run www.foodaroundathens.com We are dedicated to showing you the best food Athens has to offer amongst the bustling food and spice markets and local Greek areas and introducing you to our friends who run family owned shops and traditional tavernas!
Get to know downtown Athens including areas for food shopping and socialising with vibrant bars and coffee shops, markets including the spice and fruit market with buckets of olives, fruit and vegetables and a variety of cheeses and cured meats. See the flea markets with old antiquities. Visit some of the family run bakeries and food markets and stop to taste a variety of foods. Enjoy meze at a traditional taverna with wine or ouzo.
今後の予約可能状況
ご希望の日時に空きが見つからない場合は、Rachel And Michalisさんにすることもできます。
酒類を伴う体験です。酒類は法定飲酒年齢以上の成人ゲストにのみ提供されます。
If you are booking for the summer months please ensure you bring a bottle of water and a sun hat. In the winter Athens gets cold so you will need a jacket . Flat shoes are recommended.