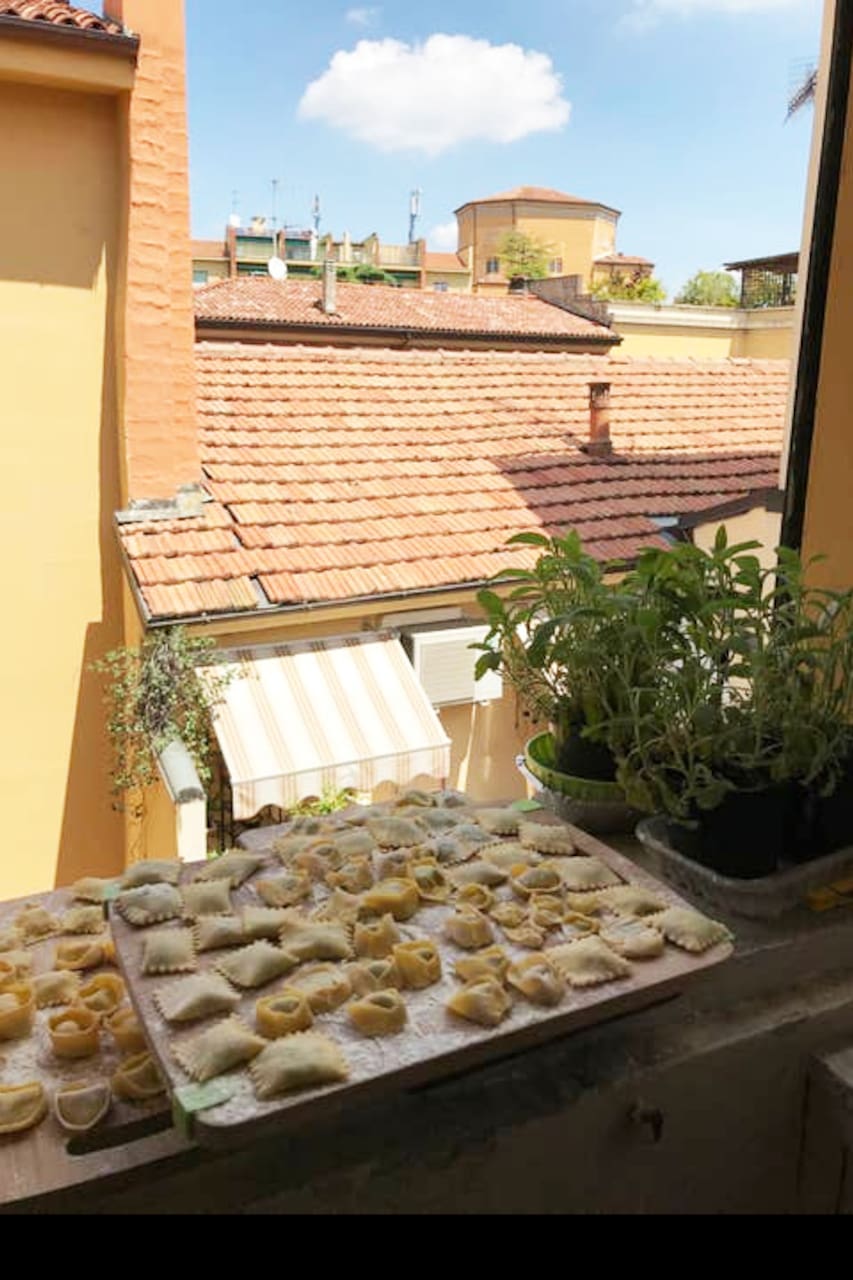 Includes:
食べ物、ドリンク、用具、移動送迎
Welcome from Chef Dennis! We'll make pasta in a real Bolognese house in the very center of Bologna, the heart of the Italian Food Valley, with the same Love and Fresh ingredients our Italian mum would do for us on a Sunday Morning. I Promise it to you as I did to all the 1050+ happy people who took the class (more info, pics and contact on IG @PastaRisottoBologna :) ) I started teaching in 2008…
In this cooking class you'lI learn how to make filled and traditional pasta: tortelloni, tortellini, ravioli, agnolotti, tagliatelle and garganelli. Starting from scratch YOU'll make the dough manually, I'll tell you how to play with it and we'll make your own meal through - both - a traditional and a creative process. While YOU'll create all the different fillings and a souce, we'll have time to…
My goal is to let you know the most simple way to make an excellent dough. If the dough you'll do back home will be great, your pasta will be as well! Nice and good tricks & tips to make your filled and not filled pasta back home without having hundred different tools :)
昼食, 夕食とテイスティングメニュー
A real Pasta experience *5 Different Pasta*, 2-5 Fillings, Degustation of 5+ Cheeses to taste (2 aged Parmigiano Reggiano included), slow food White Truffle olive oil., 12 different olive oil to try in your creative part. All you can eat HAM may be available, contact me to be sure.
水とワイン
Water / Wine on request. Can't have pasta without some good wine! Contact me Before booking (here, IG or mail) to have FREE wine. No cheap sparkling rubbish here. We care about wine and the selection may include Valpolicella, Custoza, Negramaro and Chianti
用具
Grandma tools for pasta + apron 100% made in Bologna from Lab Ramé
Take your "Sunday morning making pasta" mood and curiosity :)
Via del Pratello's spirit represents an intact evidence of the city's nightlife tradition, where students and locals converge giving life to a dynamic and vibrant street. Its historical pubs - cheap and no demanding - are the shelter for endless chatting with the company of a beer/glass of wine. We'll be in our typical Bolognese apartment, with a window to the Pratello movida and another one which looks at the red roofs.
今後の予約可能状況
ご希望の日時に空きが見つからない場合は、Dennisさんにすることもできます。
参加にはご本人確認(自撮り+身分証の顔写真との照合)が必要です。確認は1回で済みます。
My goal is to let you know the most simple way to make an excellent dough. If the dough you'll do back home will be great, your pasta will be as well! Nice and good tricks & tips to make your filled and not filled pasta back home without having hundred different tools :)