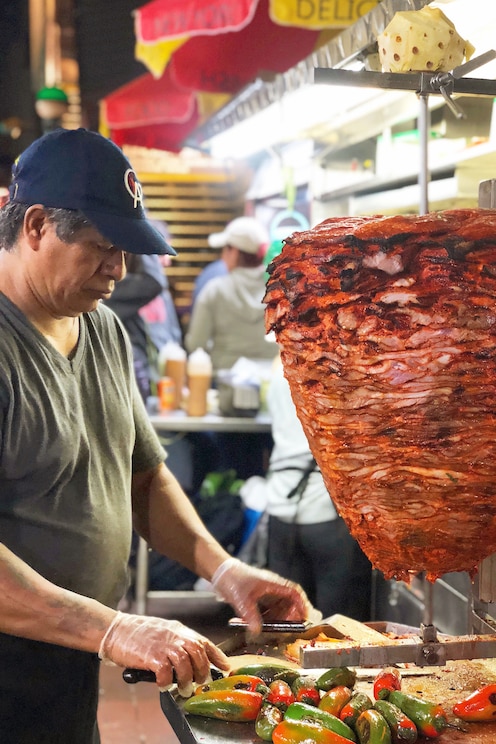 We will be exploring the world via food within a 30 block span of Queens, NYC. This is an off the beaten path, very local experience! Please note that we will be walking approximately two miles throughout the tour. There is limited seating and restroom access throughout the tour, as we will be visiting street…

street food tastings Vegetarian friendly. Please let us know of any dietary restrictions.

We provide bottled water
Greg And Jumi: Food And Footprints
We are a NYC-based couple who travel and explore the city via food. Greg is a native New Yorker who grew up in Queens and a licensed NYC sightseeing guide. Jumi is a native of the Philippines. We often travel outside the country and explore food. In turn, we bring that local knowledge back to our community. This lends a unique perspective to the food. We constantly seek out new places and frequent the eateries to showcase on the tour. You can find us on Instagram and our blog, www.foodandfootprints.com We also offer custom tours. Reach out out to info@foodandfootprints.com for more info.
We will eat at several hole in the wall eateries, carts and trucks across Jackson Heights, Queens. We frequent them and schedules vary, so one day may be different from the other. There are lots of options ranging from Tibetan momos to Colombian arepas to name a few. This tour is outdoors with about two miles of walking with none or limited seating, please keep this in mind. It is a nice way to balance the eating with some exercise!
今後の予約可能状況
ご希望の日時に空きが見つからない場合は、Greg And Jumi: Food And Footprintsさんにすることもできます。
This tour is not ideal for guests with a gluten or peanut allergy, or if you are not comfortable walking two miles outdoors with mostly no seating or tables. Bathroom access is extremely limited.