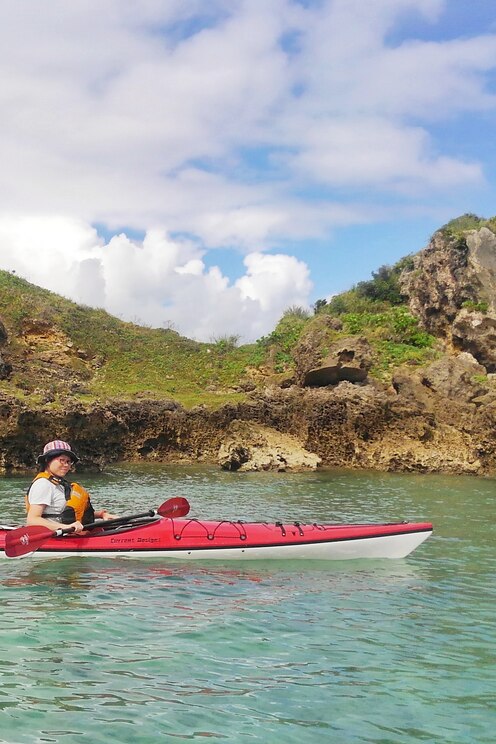 ファミリーにもおすすめ!海で季節を感じるカヤックアドベンチャー
ファミリーにもおすすめ!海で季節を感じるカヤックアドベンチャー
Options; please ask me about customising the experience to your needs (such as snorkeling & including young children). We will meet at Rika Rika Farmers market in Nakijin and then drive for about 10 minutes to the launch site, where you can park your car for free. We will launch from Nakijin or Yagaji Island and…

Local snacks from Motobu

Kayak Water shoes (reef booties), waterproof bag, Pfd (Life vest) Splash and wind proof jacket (in winter months)
Originally from England, I moved to Northern Okinawa to enjoy its slow pace and the beautiful scenery. I have a passion for adventure and exploration and that's why I run the adventure tour company, Padaloha. Join me on a safe and beautiful experience in incredible Yanbaru. I have a bunch of other Airbnb experiences that include Kayaking, Paddle boarding (SUP), Snorkeling and camping which vary in length from 1.5 to 5 hours and overnight. Trained to British Canoe Union Sea Kayak standards, I have been in Okinawa for 3 years exploring the unique parts of the Ryukyu Island's coast's including Sea valleys, Mangroves, Reefs, Bays and tours to the outer lying Islands.
You will experience the calm a gentle waters of the area around Yagaji and Kouri Island's. As we glide along the waters edge we will be on the look out for tropical fish, crabs and Osprey birds. Yambaru has a unique subtropical atmosphere and its well worth your time immersing yourself in its surroundings while you're here. Options; please ask me about customising the experience to your needs (such as snorkeling & including young children).
If the wind or sea conditions are not suitable, I will communicate with you and arrange a better location or suggest a different day to maximize your enjoyment.
カヤック
ファミリーにもおすすめ!海で季節を感じるカヤックアドベンチャー