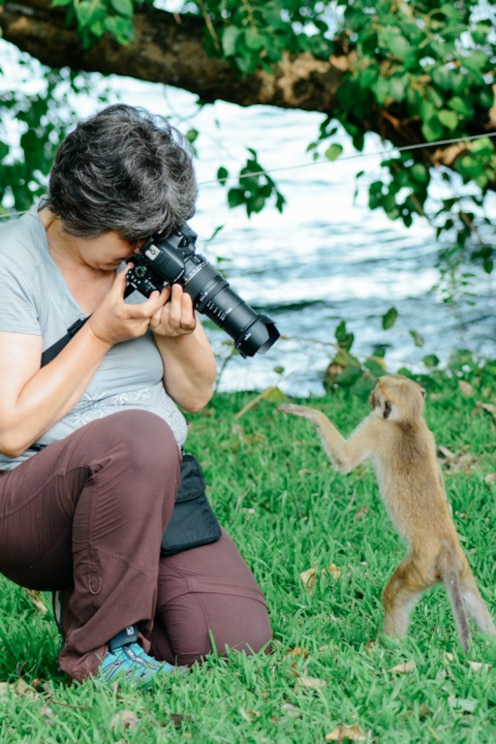 Discover Disney's Monkey Kingdom
Discover Disney's Monkey Kingdom
After a briefing on safety for you & our primates, we take you on a guided walk through our UNESCO listed research site where we will introduce you to the majestic Hanuman or the Grey langur, and a small troop of very active & gregarious Toque macaques. We'll follow them closely for a small part of their day while…
Wolfgang, Chameera And SunilR
Wolfgang has directed monkey research in Sri Lanka for nearly 50 years, and has been instrumental in the production of over 30 documentary films, including the DisneyNature "Monkey Kingdom." He is a Research Professor, having authored many scientific publications, and is associated with the Smithsonian Conservation Biology Institute. He and his team study the behavior and ecology of four species of wild primates that live in a sanctuary of natural tropical forests at Polonnaruwa Sri Lanka. He has been leading tours for over 25 years and is assisted by naturalists Sunil, Chameera and Vatsala
Association for the Conservation of Primate Diversity
At Polonnaruwa we operate the "Primate Center Lodge" known locally as the "Monkey Camp" or the Smithsonian Primate Research Station. This facility serves to accommodate guests and research personnel. We are the Association for the Conservation of Primate Diversity, under the umbrella of the Smithsonian Institution Primate Biology Program, based in Sri Lanka and the USA.
こちらは社会貢献体験です。参加費は全額、「Association for the Conservation of Primate Diversity 」に寄付されます。
We'll meet you at the ticket counter of the Archeology Museum at 7am for the morning field session , begin the tour inside the archeology reserve after purchasing the entry tickets and walk through the ruins with monkeys. Afternoon session starts at our research station by the lake shore at 2pm starting by watch our documentary films and participate in a discussion of monkey lore. Afternoon field session starts at 3.45pm back at the Reserve.
今後の予約可能状況
ご希望の日時に空きが見つからない場合は、Wolfgang, Chameera And SunilRさんにすることもできます。
After the monkey tour you are free to see the world famous archaeological ruins, and a cost of USD$25 payable to the Sri Lankan government is mandatory and not included in our monkey tour costs.
動物との出会い
Discover Disney's Monkey Kingdom