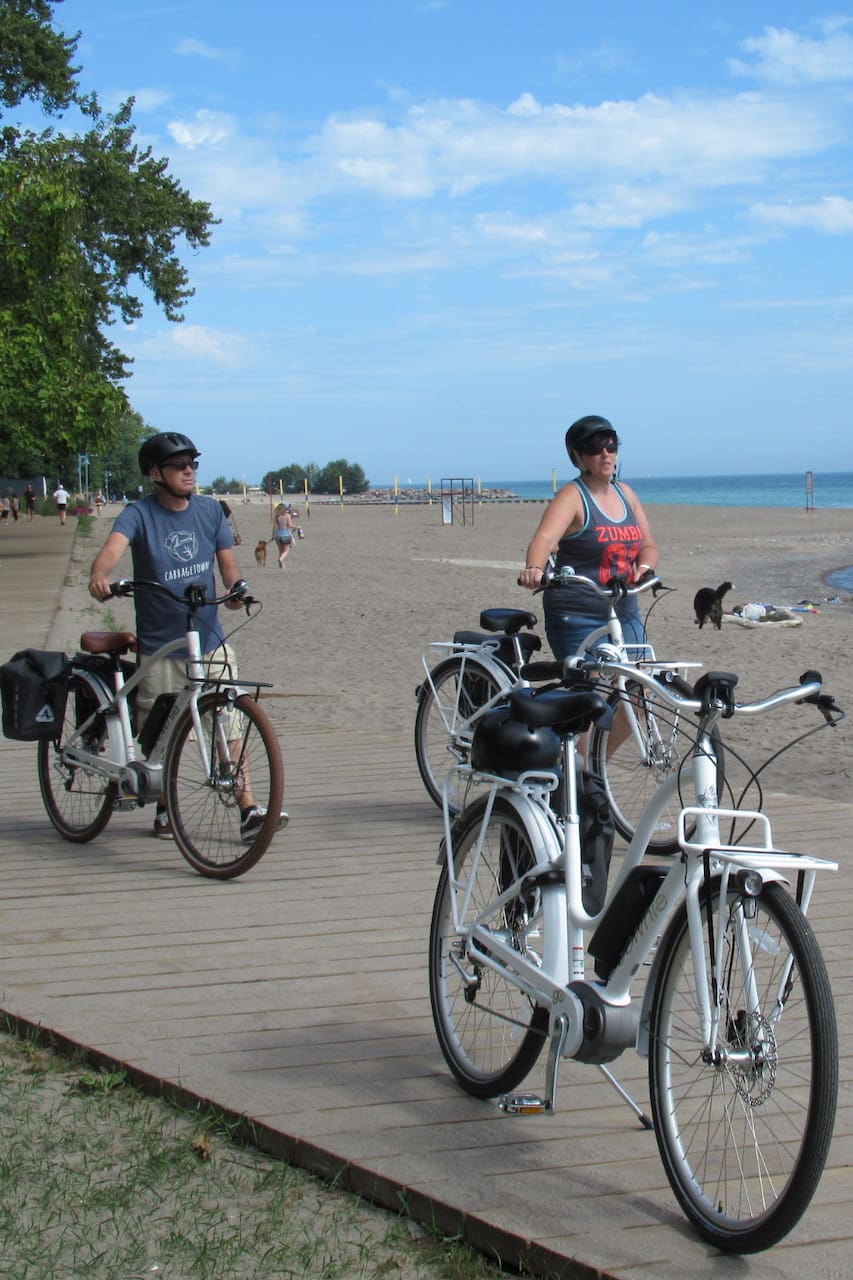 In my twenty-five years in hospitality, I've always worked to make the visitor to Toronto feel as welcome and excited about the city as I do. As an avid cyclist, and now e Bike enthusiast, exploring our city trails, lakefront and rivers is a breeze. My Vistas & Fresh Water tour and picnic will be back off the beaten path, parks, and lakefront of Toronto in late May, 2019. Cheers and until…
Starting and ending in Toronto's historic Cabbagetown neighbourhood, I will help you get comfortable in your pedal assist bike. We will meander along the waterfront, river, and city bike trails, stopping wherever and for as long as you like. And because it's just the two of you, feel free to hop off the bike and walk in the sand or enjoy the view of the skyline or Lake Ontario. Walking your bike…
Riders will asked to sign a bike rental waiver release form. Vistas and Fresh Water tour is provided by Cadence And Volta Limited Facebook @AirBnBExperiencesToronto
軽食, 昼食とその他
A fresh made light lunch, that includes a Montreal style bagel sandwich, fresh vegetable salad, craft soda, water, and granola bar. Please let me know of any food allergies and we will work together to make sure your lunch and snacks are safe for you.
自転車
Our ride is the Electra Townie GO, pedal assist electric bike. https://www.dutchcycle.ca/product/electra-townie-commute-go-296666-1.htm
アウトドアギア, 安全用具, 写真とその他
Pedal Assist Electric Bike. ( Electra Townie GO Commute ) Cleaned helmet, and rain gear will be provided if needed. Each guest bike has a pannier ( saddle bag ) so you may bring along your belongings; or you may choose to leave your backpack at my home while we are on our ride.
I have a camera and will double as photographer.
Bring your reusable water bottle, if not no worries, I'll supply bottled water.
We'll start in Cabbagetown, then along bike trails to The Beaches, Tommy Thompson Park, through Harbourfront and then Trillium Park. Cabbagetown is a beautiful Victorian neighbourhood east downtown. The Beaches is Toronto's boardwalk community, the perfect place for a picnic. Tommy Thompson Park urban bird & wildlife sanctuary with a view. The Harbourfront is TO's lakeside cultural hub. Trillium Park-William Davis Park at Ontario Place.
If you don't see availability for the time you are looking for, you can .
参加にはご本人確認(自撮り+身分証の顔写真との照合)が必要です。確認は1回で済みます。
Riders will asked to sign a bike rental waiver release form. Vistas and Fresh Water tour is provided by Cadence And Volta Limited Facebook @AirBnBExperiencesToronto