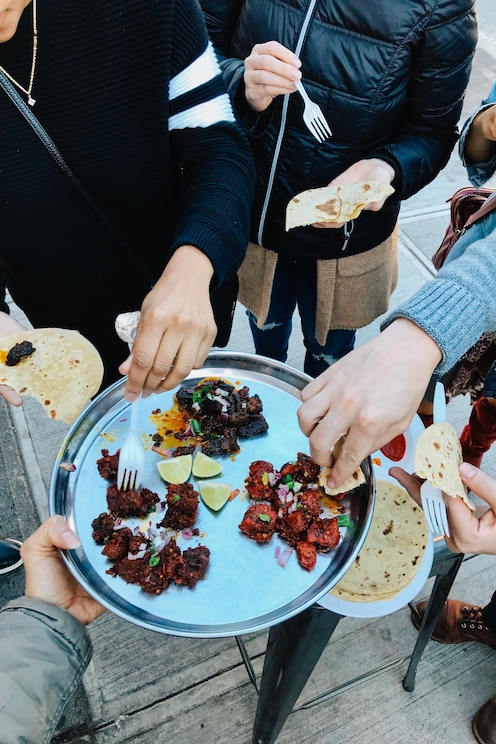 We will spend 90 minutes walking and eating our way through FIVE of the countries represented here in Jackson Heights, where there are huge South Asian and South American populations. (NOTE: We can eat indoors for 3 of the 5 stops, and sit down at 1 or 2 stops.) This tour is unique in that you can briefly travel…

Various foods 5 servings of food are included. We can accommodate vegetarian, halal, gluten-free and dairy-free eaters!

A mini guide about eating like a local in NYC (an Eat Your World exclusive!)
I'm a food-travel writer + co-founder of the Eat Your World global food website who's made it my business to explore the world via food—I've traveled and studied cuisines in 40+ countries. It's with this informed perspective that I show guests around the incredibly multicultural neighborhood of Jackson Heights, where I've lived for a decade and have led food tours for 8 years. If you want to get off the beaten path for a local's take on a non-trendy, diverse part of Queens—a slice of real-deal NYC—this tour's for you! **For larger groups (9+) or wkends, contact info@eatyourworld.com. Also: If you are traveling with kids, you may be interested in my other educational and engaging Experience in Jackson Heights, A World Food Tour for Families in Queens.
Some examples of spots we may visit are a Bangladeshi steam-table restaurant, a Colombian bakery, and a Nepali eatery that makes fresh sel roti (rice doughnut) in front of you. We'll likely have Tibetan momos from a truck and papri chaat, my fave North Indian snack. The tour changes from time to time to keep things fresh and accommodate specific guest requests (including birthdays!). Bathrooms are available along the route.
今後の予約可能状況
ご希望の日時に空きが見つからない場合は、Lauraさんにすることもできます。
--Please bring a water bottle for yourself. --Consider this tour lunch (or dinner). --Tour is rain or shine (bring umbrella if needed!).