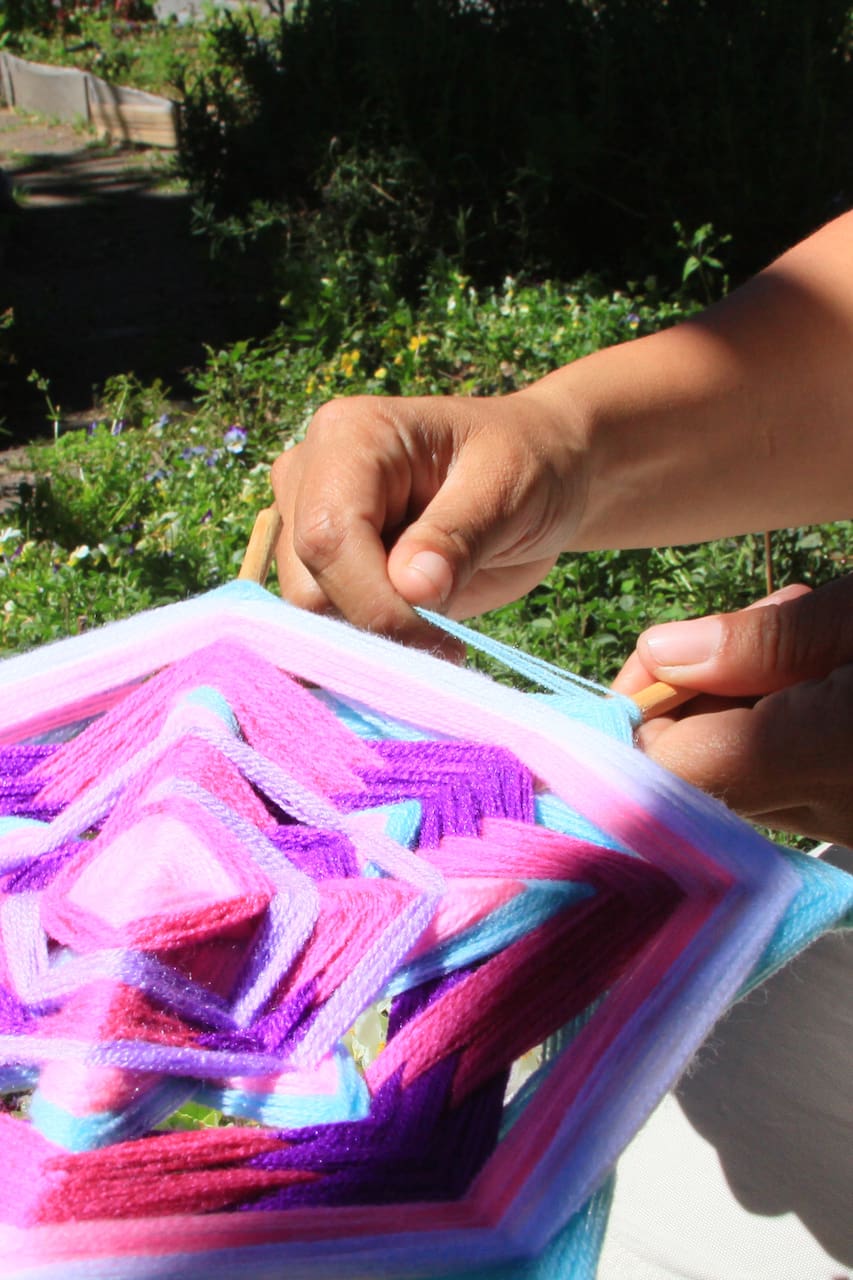 Creative, full of Imagination with a curious mind and a kind heart that keeps me busy, discovering the complicated process of creating something beautiful for the past 15 years and challenging myself learning new skills from traditional Mexican Artisans and contemporary designers to mix into variuos Art Therapy techniques that center mind and body while designing Woven mandalas -Ojo de Dios-…
Entering a natural environment will prepare you for our initial meditation to focus on the intention you want to imprint on the woven Mandala, visualizing the shapes and colors that simbolize your inner toughts and feelings. Be confortable to start learning the techniques that will shape the previously chosen diagram - Ojo de Dios Huichol Tzicuri 4 points, Woven Mandala 8 points , Tibetan Mandala…
https://m.alexgrey.com/blog/mandala-meditations/ http://www.ojodehikuri.com/mandalas-tejidos/ https://www.verywellmind.com/coloring-mandalas-as-a-meditation-technique-4161160 https://www.trauma-inform
軽食
Healthy natural Amaranto bars, rice cakes or nuts & seeds for you to have a entratained belly to let you concentrate on art
ドリンク
Water: Jar and glasses to serve. lemon, orange, cucumber or mint leaves if you want to add them for a refreshing drink.
Choose your diagram for your Mandala, is better if I bring the structure ensambled previously. No previous experience needed, this activity is for all ages, during the time stablished you can complete a full piece, depends on your skill the completion of
Huerto Roma Verde is by itself an oasis to embark on a journey back to our natural cycles, its heart is a urban agricultural garden shape as a Mandala, around it we will settle confortably on a shaded space to sumerge ourselves into the creation process. Relaxing music and nature sounds will sorround us to find calm and concentration, healthy snacks and water will be available at all time.
参加にはご本人確認(自撮り+身分証の顔写真との照合)が必要です。確認は1回で済みます。
https://m.alexgrey.com/blog/mandala-meditations/ http://www.ojodehikuri.com/mandalas-tejidos/ https://www.verywellmind.com/coloring-mandalas-as-a-meditation-technique-4161160 https://www.trauma-inform