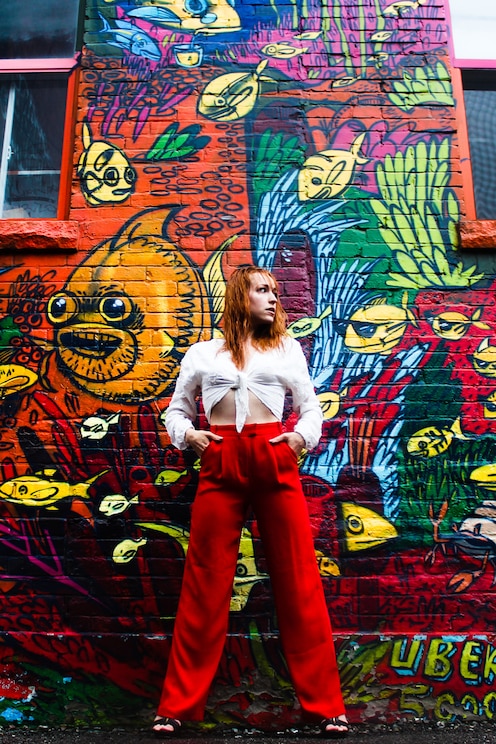 Looking for a break from the typical tourist photos in Toronto? Graffiti Alley is one of the most colourful and vibrant places in the city! I will introduce you to one of my favourite hidden photography places in Toronto where I will take photos for you to elevate your Instagram, blog or other social media…

Coffee or tea & water from a local cafe

Unlimited photos I will send you a link with all of your photos including a minimum of 10 edited images.
Hi! I'm Catherine and I am a published photographer, content creator, & RAW Artist in Toronto! I'm so excited to be offering this tour for its second summer! With a specialization in portrait photography, I have developed a love for sharing my passion with people and getting to know what inspires them. Throughout my training, photography has taught me not only to love the art that I do, but to love the art in myself, live boldly and appreciate beauty in the mundane. Depending on your needs, I may have an assistant join us! Check out: My Instagram: @purelightphotography_ Website: https://www.purelightphotography.info
We will visit Graffiti Alley, one of the most unique and artistic places in Toronto where I will be taking photos of you. Along the way I will give you some of the history behind the art work, funny stories, the juicy gossip about the artists themselves and local myths and legends about the area. It truly is an incredible place to check out!
参加にはご本人確認(自撮り+身分証の顔写真との照合)が必要です。確認は1回で済みます。
Come makeup and hair ready! You may bring more than one outfit and/or props Please note, I will wait a maximum of 30 minutes for no-shows