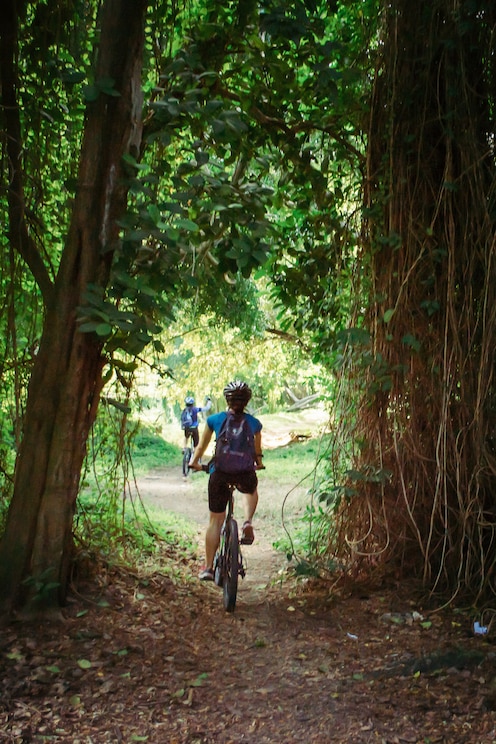 During this bicycle tour you will learn a lot about Habana, its food, the Cuban daily live, economy, history, culture and reality. All while you ride on two of its most important neighborhoods: El Vedado & Centro Habana. Learn here what can't be find on internet. On our way we will cross the Almendares River by…
含まれるもの
Equipment, Drinks, Food

Snacks like Fruits or Fast Food. Depending of what we find on our way, we will offer you one of this options: tropical…

Water, natural juice... A bottle of water at the beginning, and one of this options: natural juices, milk shake or beer

Bike, helmet and more We will provide specialized professional bikes, safety measures and mechanical assistance along the…
We are two friends—a programmer and an art historian—who share the same passion of riding bicycles throughout Havana with our friends. We have another tour to the other side of the bay, "Ride to the Fortresses of Havana": www.airbnb.com/experiences/261486 We are part of MountainCuba bicycle touring project, created by the entrepreneur Luis in march, 2016. We simply love bicycles, cycling, and any related with it! We use specialized type bikes. Specifically, high-end mountain bikes. Very comfortable and adequate for all terrains, and also, for Havana streets.
El Vedado and Centro Habana neighborhoods are 2 of the more important areas of the city, together with Old Havana. And it has a lot to be seen! As we make our way, you will see the Malecon Habanero—the broad coastal road, the Havana University, the Havana Forest, the Revolution Square, the Almendares River, the Colon Cemetery and beyond. At the end of the tour you will know a lot more about our beautiful and eclectic Habana.
今後の予約可能状況
ご希望の日時に空きが見つからない場合は、Luisさんにすることもできます。
Wear comfortable shoes (not flip flops). Protect yourself from the sun: use long sleeves, bring sunscreen, sunglasses, etc. Amazing photos opportunities (bring camera). Consider bringing extra water.