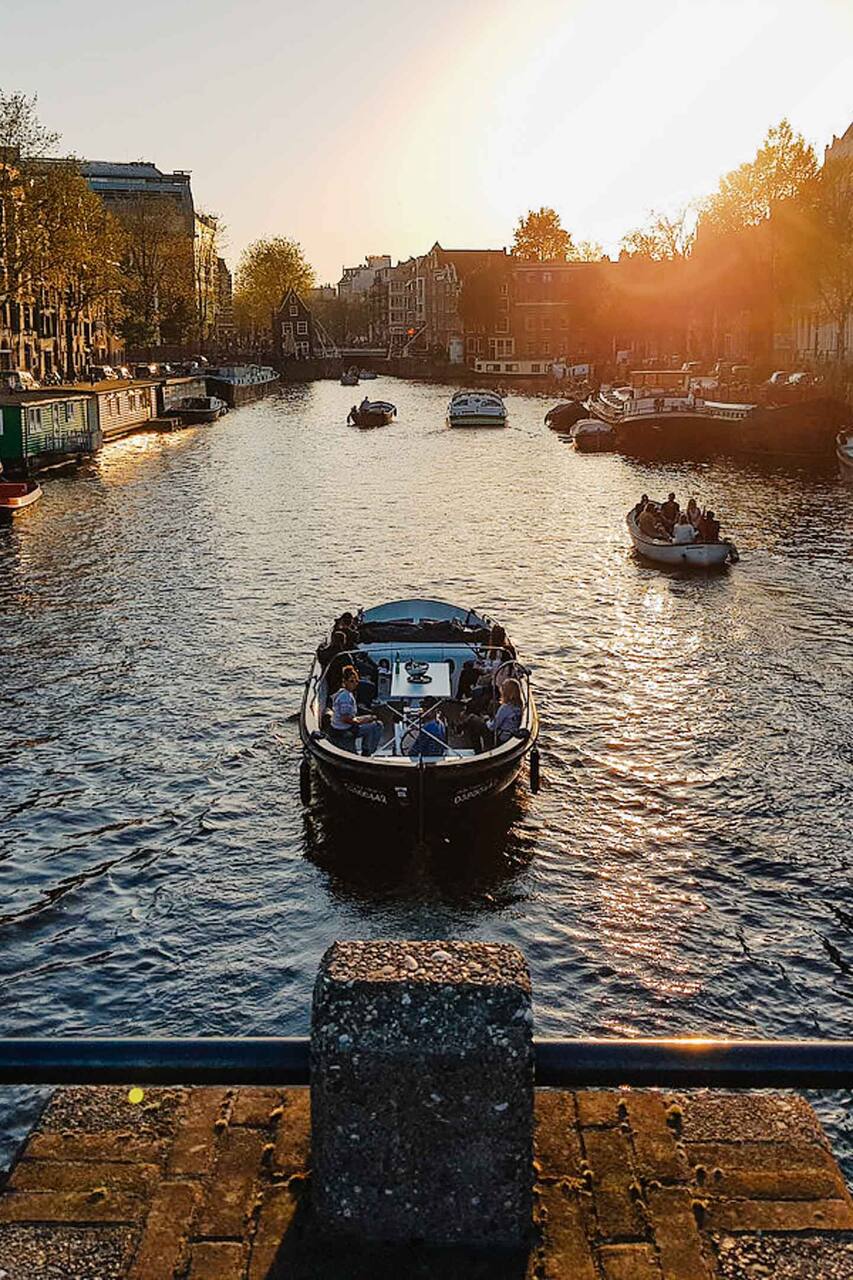 Amsterdam Experience Cruise
Amsterdam Experience Cruise
My name is Robby van Daalen (33), father of twins and proud owner of Rederij De Wester. In 2019 my Amsterdam experience tour became one of the most popular and best reviewed experiences of Airbnb in the world, we are currently number 4 in the world on Airbnb with the most positive reviews and bookings. Why do our guests praise our canal trip as 'the best cruise ever'? Not only because of our…
Do you want to experience Amsterdam in a more authentic way? Step aboard on our beautiful large luxury sloop with enough space for everyone and discover the city like a real explorer. We'll welcome you on our stylish, electric sloop with enough drinks and delicious Dutch snacks, we will also stop at one of Amstedam's best boat catering, to pick up real Amsterdam bitterballen. So lean back, relax…
(Rederij) De Wester does not just stand for a great entertainment experience, we also think it is important to have social awareness. That is why we will donate a part of our profit from now on to a foundation that helps to improve the health and wellbeing of premature and sick babies. steunemma.nl
軽食と前菜
Taste the original Amsterdam 'bitterballen'. Freshly sliced Dutch cheese, stroopwafels, and many more snacks. Vegetarian or an allergy such as gluten? please let us know so we can arrange the right snacks for you
アペリティフ, ビール, ジュース, ソフトドリンク, 蒸留酒, 水とワイン
Open bar, we'll provide you with enough drinks. Beer, special selected wines by our wine merchant, soft drinks, water, 0.0% beer, and Dutch jenever. Also homemade mulled wine and hot chocolate during the winter edition do you want gluten-free beer ? let us know in advance.
船
Our boat is fully electric, with a specially developed 4-season roof made from lexan for a wonderful view during rainy and sunny days. heated on cold days and heated pillows to keep you warm. The boat is insured and has an official permit to carry passengers.
Parents with children are very welcome, don't hesitate for a moment if you have questions about it. We also have room for a stroller on board
First we'll visit the old quarter of the Jordaan. See highlights like the Westertoren and the Anne Frank house, taste the original Amsterdam 'bitterballen'. We'll navigate via the river Amstel to the Red Light District. See the fabulous storehouses en then visit the hidden side of the city. Cruise past the National Maritime Museum and admire the East Indiaman ship dating from the Golden Age and enjoy the exotic Hortus Botanicus.
今後の予約可能状況
ご希望の日時に空きが見つからない場合は、Robbyさんにすることもできます。
酒類を伴う体験です。酒類は法定飲酒年齢以上の成人ゲストにのみ提供されます。
(Rederij) De Wester does not just stand for a great entertainment experience, we also think it is important to have social awareness. That is why we will donate a part of our profit from now on to a foundation that helps to improve the health and wellbeing of premature and sick babies. steunemma.nl
ボート&クルーザー
Amsterdam Experience Cruise