Walk to Secret Scottish Waterfall
Walk to Secret Scottish Waterfall
Walk to Secret Scottish Waterfall
Walk to Secret Scottish Waterfall
You will take a scenic drive through the countryside to our smallholding, which is hidden away, a short distance up a good forest track. Here you will meet your guides - Daniele and her 17 year old son Patrick. A bathroom is available. After a safety brief, equipment check and discussion of the route, you will drive a short way to the start of our secret 2 1/2 mile (4 km) waterfall walk - once well maintained and way marked, but now abandoned and forgotten . A shorter walk is available. The walk combines paths, steps, bridges and steep, rough terrain to negotiate. You will be immersed in the beauty of the woodland, walking by a tumbling river, curving this way and that, leading you deep into the forest. The forest is rich in wildlife - woodpecker, nuthatch, siskin, otter, red squirrel, pine marten, and wild salmon (in the Autumn). There are forest plants, trees and fungi to see. The waterfall is hidden until you round a bend, then you see it tumbling down the rock face in the distance. There are no barriers or tapes, so you can get up close and feel the cool spray on your face. After photographs, we will return to the car where tea/coffee/juice and scones/cake will be provided. In the event of bad weather or in the winter months tea and scones or mulled wine and mince pies will be served at the smallholding, where you can get cosy and relax in front of the log burning stove.
15 years ago, I left the city and the word of corporate law behind, and moved to the Scottish Borders to run a small holding with my family. Here we keep hebridean sheep, connemara ponies, ducks and hens. We also welcome guests to stay, either in Curlew Cottage or The Wren's Nest, an eco Tiny House. As a family we are passionate about exploring the area where we live, and discovering new and special places. When we are not looking after our sheep, we love hill walking and mountain biking. Having co-written a walking booklet for the area (Roberton Walks), we have assisted our guests in exploring the area over the years. We have a detailed knowledge of the local terrain, weather patterns, local history and wildlife, and our own unique insight on the very best hidden places for you to enjoy.

Tea/coffee/juice/scones/tray bakes served at the riverside (or if the weather is poor, we will warm up in front of the log…

Tea/coffee/juice/water

Walking poles and rucksacks.
We will visit a secret waterfall, hidden in the forest. You are unlikely to meet anyone else on our adventure - as the area is sparsely populated, with only locals knowing of the route to the waterfall. As we walk through the forest, we are happy to share our local knowledge of the history and wildlife of area - including local farming/forestry practices.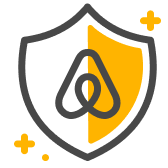 ゲストの安全
野外活動にはさまざまなリスクが伴い、体験参加中に危険な状況にさらされる可能性もございます。 安全性は自らの能力と状況(会場、天候、装備など)から判断し、ご自身の責任でご参加ください。
10歳以上の方5名まで参加できます。保護者同伴の2歳未満のお子様も参加可能です。 Guests should be able to ascend/descend steps, cross low bridges and be comfortable around dogs. Occasionally a guest requests to bring a well behaved dog.
参加にはご本人確認(自撮り+身分証の顔写真との照合)が必要です。確認は1回で済みます。
Not suitable for those with mobility problems. Parts of the walk can be muddy and slippery in places, especially in the winter. You may wish to bring a change of socks/shoes in case of wet feet. We are happy for you to bring dogs as long as the other guests are happy with this.
地元と体験活動を愛してやまない現地の方がご案内。

少人数で個別対応が可能です。

すべての体験は「中の人のアクセス」の観点から審査を受けます。
Walk to Secret Scottish Waterfall
新着の体験