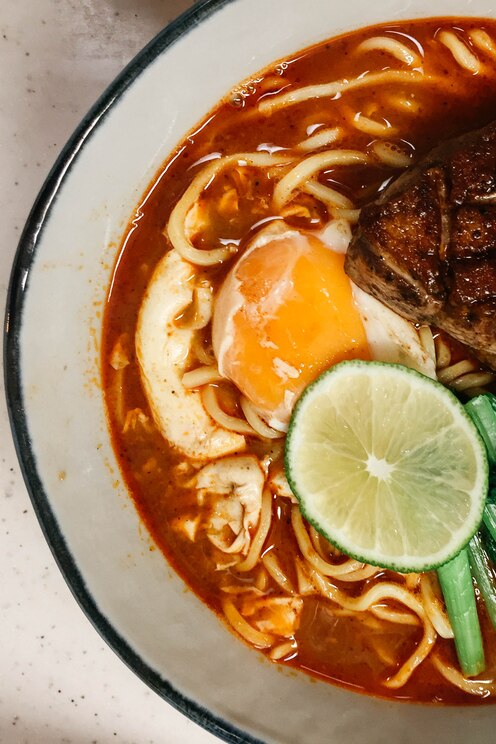 Join me with 1000s of others who took my class over the past 5 years! In this 100% hands-on 3-hour class, everyone will make your own custom Ramen from scratch (noodles, soup, & cook it), so you can recreate it at home after this 1 class!! 1. You will knead the dough for noodles first. 2. While it rests, I will…

Your own Ramen. 4 Ramen We will provide all the ingredients necessary to make your own Ramen.. We will provide taste of 4…

We have all the tools
I'm a professional Japanese chef, who is licensed and insured! I go back and force between Tokyo and SF, so you'll get the most updated information about Tokyo food scene and trends as well as traditional values. You can learn more than just the subject. I've been teaching how to make Ramen over 5 years and Sushi for 15 years, which was highlighted in Sunset magazine. I'm originally from Yokohama, Japan. I opened the first izakaya in SF, Sozai in 2008 and Nombe in 2009, received Top 100 from SF Chronicle and was named Top 6 Izakaya in the US by Bon Appetit. But I found more LOVE in teaching!!
You'll learn how to make "Professional" Ramen in a spacious commercial kitchen w/ high heat burners and professional equipment. The kitchen can be cold or hot depending on the weather. The Tasting/lecture and the dinner will be served in a separate dining area. The building is located on Bernal Heights next to Barebottle Brewery in the residential area and the parking is difficult. The door opens 15 min before the class starts.
You are welcome to bring your own Beer, Wine, or Sake to enjoy! Check out my article (NOMBE) on 7x7 www.7x7.com/bay-area-cooking-classes-2074504776.html I'm professional and have liability insurance!